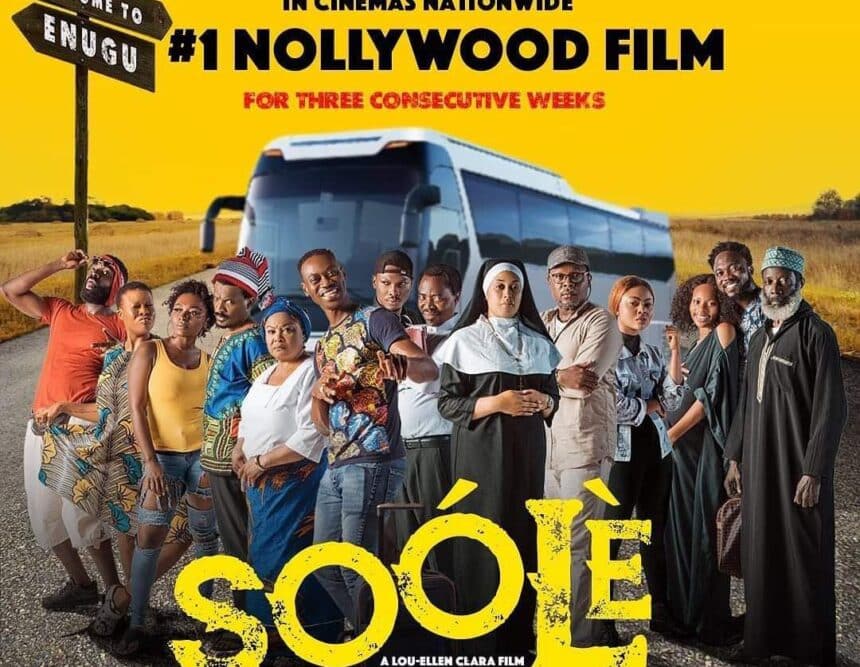 A REVIEW OF SOÓLÉ, A NETFLIX MOVIE_FILMBESPRECHUNG_ENGL_DEUTSCH
A REVIEW OF SOOLE, A NETFLIX MOVIE
cultureafrica reviews netflix series and movies dealing with african or african-american content. Documentaries, Feature Films and Music Events. We have a look on it. Lorna Likiza watched the Nigerian production "Soole". You can find the film still on Netflix.
FÜR DIE DEUTSCHE VERSION NACH UNTEN SCROLLEN
By Lorna Likiza
When was the last time you watched a movie and laughed your head off? Such was the case for me when I finally watched Soole, a 2021 Nigerian film production by Adunni Ade and directed by Kayode Kasum. You see, I had long given up on Nollywood with its repetitive and overdramatic style of films until Netflix came along and Nigerian movies became more explorative. In my opinion, Soole is a Thriller/Drama with just the right dose of comedy and a touch of magical realism.
The story begins with a nun, Sister Veronica, who has travelled from Enugu to Lagos to try and get funds for the orphanage she runs. Unfortunately, her trip is unsuccessful and she is forced to opt for a Soólé (cheap ride). The driver, eager to make some money for Christmas, is quite greedy charging a higher price than normal and Sister Veronica is forced to negotiate for a lower price she can afford. Just before she boards the bus, a woman drops off a suitcase with the driver that needs to be delivered to Enugu, also at a price. The contents of the suitcase will come to be known later in the film.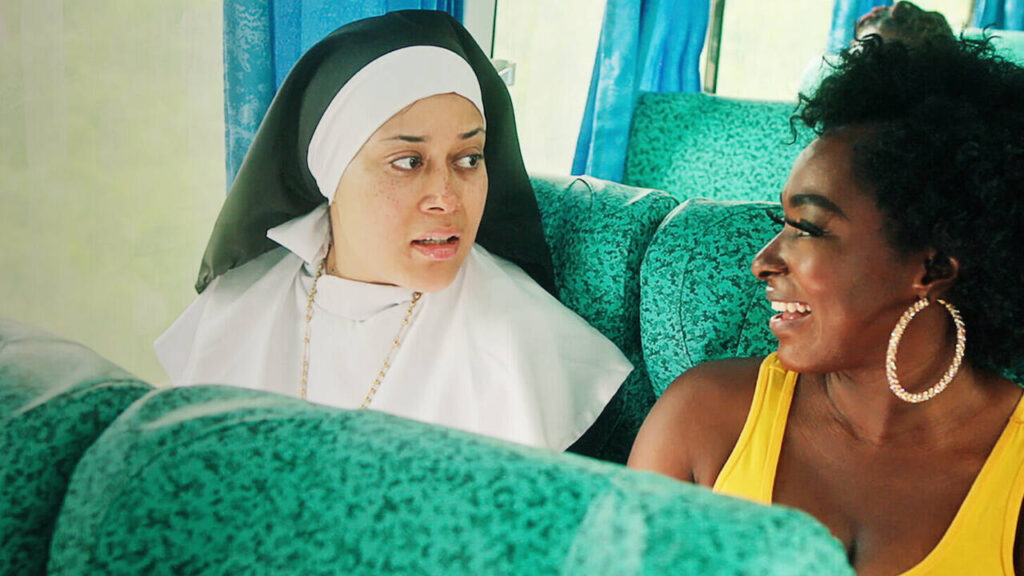 What I loved the most about the movie were the different characters in the bus as you would find in a real life situation and their exchanges were the most hilarious. Nigerian actors just bring out the best in any script they are given. The fact that the bus is indeed on the move gives you a rare glimpse of Nigerian scenery on the route from Lagos to Enugu. And not only is the storyline concentrated in the bus. There are twists and turns which make the movie quite entertaining.
I particularly appreciated the relatable aspects of a pastor preaching in the bus and a vendor selling traditional herbs, both whom were passengers. Not forgetting the vendors along the way who hold up high their different merchandise for the passengers to purchase. Indeed, African society is quite similar whether it's in West Africa, Central Africa or East Africa. I wasn't expecting though, most of the characters ending up killed towards the end. But you have to watch the movie yourself to find out why this happens.
Soólé is a welcome departure from the usual Nigerian scripted movies but it's still every bit Nigerian in terms of location, mannerisms and culture. And if you have already immersed yourself in the African content on Netflix, you will recognize some familiar faces. The choice of wear cleverly distinguishes each character from the other which is equally, such a plus. I give it an 8/10.
Lorna Likiza is member of the staff of cultureafrica.net. She is a published writer of books and essays, founder of the Heroe Book Fair. She works and lives in Mombasa
https://www.youtube.com/watch?v=fqTw6f63lNE&t=1s
DEUTSCHE VERSION
EINE REZENSION VON SOOLE, EINEM NETFLIX-FILM
Cultureafrica rezensiert Netflix-Serien und -Filme mit afrikanischem oder afro-amerikanischem Inhalt. Dokumentationen, Spielfilme und Musikevents. Wir haben ein Auge drauf:  Lorna Likiza hat sich die nigerianische Produktion "Soole" angesehen. Der Film ist auf Netflix zu sehen, zur Zeit nicht in Deutschland aber definitiv auf dem afrikanischen Kontinent. Manchmal schwappt der Film dann letztlich doch nach Deutschland.
Wann haben Sie das letzte Mal einen Film gesehen und sich kaputt gelacht? So ging es mir, als ich endlich Soole sah, eine nigerianische Filmproduktion aus dem Jahr 2021 von Soólé unter der Regie von Kayode Kasum. Ich hatte Nollywood mit seinem repetitiven und überdramatischen Stil schon lange aufgegeben, bis Netflix aufkam und nigerianische Filme entdeckungsfreudiger wurden. Meiner Meinung nach ist Soole ein Thriller/Drama mit genau der richtigen Dosis an Komik und einem Hauch von magischem Realismus.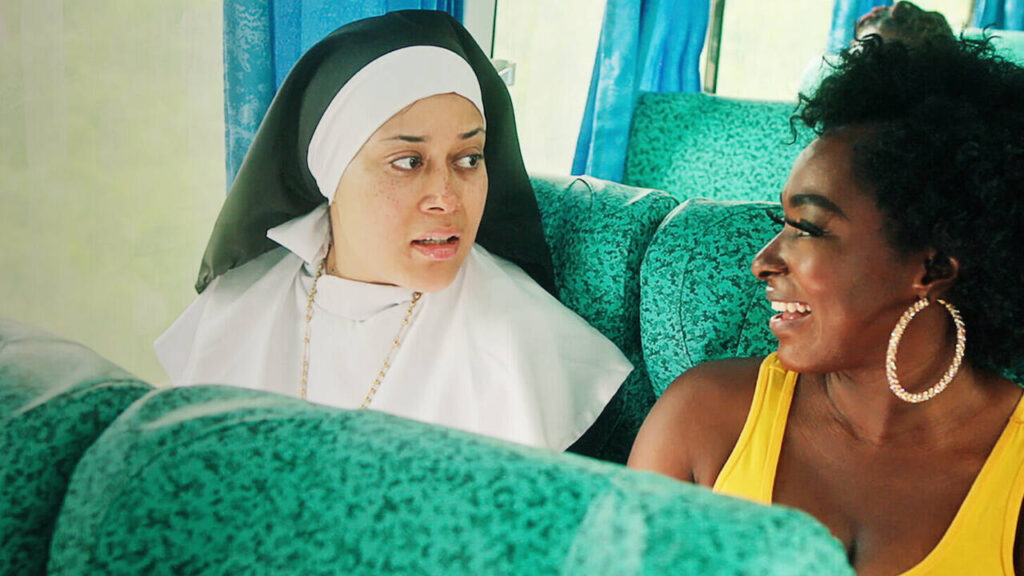 Die Geschichte beginnt mit einer Nonne, Schwester Veronica, die von Enugu nach Lagos reist, um Geld für das von ihr geleitete Waisenhaus zu beschaffen. Leider ist ihre Reise erfolglos und sie ist gezwungen, eine Soólé (heißt "günstige Fahrt") zu nehmen. Der Fahrer, der unbedingt etwas Geld für Weihnachten verdienen will, ist ziemlich gierig und verlangt einen höheren Preis als üblich, so dass Schwester Veronica gezwungen ist, einen niedrigeren Preis auszuhandeln, den sie sich leisten kann. Kurz bevor sie in den Bus einsteigt, gibt eine Frau beim Fahrer einen Koffer ab, der ebenfalls zu einem bestimmten Preis nach Enugu geliefert werden soll. Der Inhalt des Koffers wird später im Film bekannt werden.
Was ich an dem Film am meisten mochte, waren die verschiedenen Charaktere im Bus, wie man sie auch im wirklichen Leben antreffen würde, und ihre Wortwechsel waren sehr lustig. Die nigerianischen Schauspieler holen einfach das Beste aus jedem Skript heraus, das sie bekommen. Die Tatsache, dass der Bus tatsächlich unterwegs ist, gibt einem einen seltenen Einblick in die nigerianische Landschaft auf der Strecke von Lagos nach Enugu. Und die Handlung konzentriert sich nicht nur auf den Bus. Es gibt Wendungen, die den Film recht unterhaltsam machen.
Besonders gut gefallen haben mir die sympathischen Aspekte eines Pastors, der im Bus predigt, und eines Händlers, der traditionelle Kräuter verkauft, die beide Fahrgäste sind. Nicht zu vergessen die Verkäufer entlang des Weges, die den Fahrgästen ihre verschiedenen Waren zum Kauf anbieten. Die afrikanische Gesellschaft ist in der Tat recht ähnlich, ob in Westafrika, Zentralafrika oder Ostafrika. Ich hatte allerdings nicht erwartet, dass die meisten der Figuren gegen Ende getötet werden. Aber man muss sich den Film selbst ansehen, um herauszufinden, warum das passiert.
Soólé ist eine willkommene Abwechslung zu den üblichen nigerianischen Filmen mit Drehbuch, aber er ist immer noch sehr nigerianisch, was die Schauplätze, die Eigenheiten und die Kultur angeht. Und wenn Sie sich bereits in die afrikanischen Inhalte auf Netflix vertieft haben, werden Sie einige bekannte Gesichter wiedererkennen. Die Wahl der Kleidung hebt die einzelnen Charaktere geschickt voneinander ab, was ebenfalls ein großer Pluspunkt ist. Ich gebe eine Punktzahl von 8/10.
Lorna Likiza ist festes Mitglied von cultureafrica.net. Sie hat Bücher, Artikel und Essays veröffentlicht. Sie arbeitet und lebt in Mombasa.
Den Trailer gibt's hier:
https://www.youtube.com/watch?v=fqTw6f63lNE&t=1s