shonareads book review: Njinga of Angola and Bulawayo Burning – engl/ger
Our new contributor shonareads from Harare/Zimbabwe will review books from african writers as well as african topic, science fiction and many more of interest. We start today with two reviews: one about the Angolan "Warrior" Queen Njinga and the social history book "Bulawayo Burning".
Für die deutsche Version bitte nach unten scrollen!
I asked her five questions for the beginning.
Hans Hofele (cultureafrica):shona, you read a lot. How do you manage to read so much? 
I love reading! And I make time for it. I run my own small business, which allows me to structure my day to suit my lifestyle.
HH: Is reading for you more than a pleasure? 
I only read for pleasure. I make sure to pick books (and articles, and so on) that are in areas of interest.
HH: If we talk about Zimbabwean writers or African Writers in general, do you see trends? 
My favourite current trend in "African" writing is away from the colonial gaze, and more towards redefining an African worldview, and a way of writing to and for Africans. I'm also very interested in Africanfuturism in speculative (and "science") fiction, which is an Africa-centred futurism that is distinct from Afrofuturism, which is a more American concept.
HH: Science Fiction was dominated long time from the western world, do you see an African development into this genre?
I hesitate to define Afrofuturism and Africanfuturism as "new", as we have been telling our own stories for centuries. I think it is fair to say that the Western world has become more interested in African stories, and that's reflected in new stories from African authors in every genre, including speculative fiction.
HH: Which authors, from your point of view, are most underrated?
I read a lot of unknown authors, and love to find new voices, so this is a difficult question for me to answer! 
Review One: Njinga of Angola_Africas Warrior Queen / Linda M.Heywood

320 pages.
First published in 2017.
Finished reading on June 15, 2021.
Genre: Non-fiction.
Though largely unknown in the Western world, the seventeenth-century African queen Njinga was one of the most multifaceted rulers in history, a woman who rivaled Elizabeth I and Catherine the Great in political cunning and military prowess. Linda Heywood offers the first full-length study in English of Queen Njinga's long life and political influence, revealing how this Cleopatra of central Africa skillfully navigated–and ultimately transcended–the ruthless, male-dominated power struggles of her time.
In 1626, after being deposed by the Portuguese, she transformed herself into a prolific slave trader and ferocious military leader, waging wars against the Portuguese colonizers and their African allies. Surviving multiple attempts to kill her, Njinga conquered the neighboring state of Matamba and ruled as queen of Ndongo-Matamba.
At the height of her reign in the 1640s Njinga ruled almost one-quarter of modern-day northern Angola. Toward the end of her life, weary of war, she made peace with Portugal and converted to Christianity, though her devotion to the new faith was questioned.Who was Queen Njinga? There is no simple answer. In a world where women were subjugated by men, she repeatedly outmaneuvered her male competitors and flouted gender norms, taking both male and female lovers. Today, Njinga is revered in Angola as a national heroine and honored in folk religions, and her complex legacy continues to resonate, forming a crucial part of the collective memory of the Afro-Atlantic world.
I first came across the name Nzinga when every second woke person on Twitter was using the name, but I was never curious about it.Turns out, I needed to be, because woke people already knew something about this amazing woman.
This book fixed the deficit in my knowledge very smartly. Written by an academic, it's nevertheless very accessible; except, you may find the shifting political alliances in 17th century Angola as bewildering and eventually stultifying as I did. Never mind those, though: Njinga is a fascinating character, and her life makes for a compelling read.
In addition, it's always edifying to read about different colonial approaches:
I was also very intrigued, after reading through most of the book, to see parallels between the use of the myth of Njinga to create a nationalist icon in 1970s Angola, and Zimbabwe's historical and also recently revived myth-making around Nehanda:
Other snippets on Twitter here.
I got to thinking again about the Western insistence on written history being "real" (To whom?), and "accurate" (By whose standards? Interpreted by whom?). How forcing a people to speak the coloniser's language disrupted/distorted/*destroyed* oral tradition. Much of what was written about Njinga over the two centuries after her rule came from Portuguese missionary sources, who of course had their own agenda. It is interesting that the MPLA may have reverted to local historical sources, but created a myth for their own agenda, too. Maybe history must always be disputed, and narratives must always have a purpose?
Regardless, very much worth educating yourself about this larger-than-life southern African woman of history. I feel as proud of her as if her blood runs in my veins — even if she was an occasional cannibal, and sent people off into slavery.
Rated: 8.5/10.
Bulawayo Burning by Terence Ranger
272 pages.
First published in 2010.
Finished reading on 11 Nov 2020.
Genre: Non-fiction.
This book is designed as a tribute and response to Yvonne Vera's famous novel Butterfly Burning, which is set in the Bulawayo townships in 1946 and dedicated to the author. It is an attempt to explore what historical research and reconstruction can add to the literary imagination. Responding as it does to a novel, this history imitates some fictional modes. Two of its chapters are in effect 'scenes', dealing with brief periods of intense activity. Others are in effect biographies of 'characters'. The book draws upon and quotes from a rich body of urban oral memory. In addition to this historical/literary interaction the book is a contribution to the historiography of southern African cities, bringing out the experiential and cultural dimensions, and combining black and white urban social history.
TERENCE RANGER was Emeritus Rhodes Professor of Race Relations, University of Oxford and author of many books including Writing Revolt, Are we not also Men? (1995), Voices from the Rocks (1999) and was co-editor of Violence and Memory (2000).
Full disclosure: I'm from Bulawayo!
So of course I LOVED reading this book on the history of the city of my heart. The date range (1893-1960) was chosen for a specific reason, but the detail included wonderful facts that one probably only comes across by doing much archival research.
Mr Ranger wrote thisas a response toButterfly Burning by Yvonne Vera, a book I had read and enjoyed before (there must be a story there!), so it helps to read the two as companion books. While Butterfly Burning is fiction, this is the non-fiction that explains and confirms what life in Bulawayo would have been like for Ms Vera's characters.
I was particularly interested in the parts that corroborated stories I heard growing up, told by my mother and grandmother. One particular historical event that I have never heard about except through oral history was the Zhii riotsdemonstrations of 1960.
Some snippets from the book:
Awful. (Also, anecdotally, the burying of loot has happened since, after demonstrations.)
The rest of my ravings about the book and its significance to me personally on Twitter here.
I believe you can buy this book in Zimbabwe from Weaver Press (Facebook), but it is also available as an e-book from Amazon.
Small plug: if you're in Zimbabwe, please support Weaver Press and other independent bookstores/publishers.
Rated: 9/10 (there were long stretches about labour things that made my eyes glaze over, and that's why it's not 10).
shonatiger is a blogger currently based in Harare, Zimbabwe. Her latest blog is at shonareads.wordpress.com, where she blogs about the books she reads. She can also be found on Twitter at @shonatiger, and on "Bookstagram" at shonareads_
DEUTSCHE VERSION
Unsere neue Kollegin shonareads aus Harare/Simbabwe wird Bücher von afrikanischen Schriftstellern rezensieren, sowie afrikanische Themen, Science Fiction und vieles mehr. Wir beginnen heute mit zwei Rezensionen: eine über die angolanische "Krieger" Königin Njinga und eine persönliche Betrachtung über das sozialgeschichtliche Buch "Bulawayo Burning".
Für den Anfang habe ich shona fünf Fragen gestellt.
Hans Hofele (cultureafrica): shona,du liest sehr viel. Wie schaffst du es, so viel zu lesen? 
Ich liebe das Lesen! Und ich nehme mir Zeit dafür. Ich führe mein eigenes kleines Unternehmen, was mir erlaubt, meinen Tag so zu strukturieren, dass er zu meinem Lebensstil passt.
HH: Ist Lesen für dich mehr als nur ein Vergnügen? 
Ich lese nur zum Vergnügen. Ich achte darauf, dass ich Bücher (und Artikel usw.) aus den Bereichen auswähle, die mich interessieren.
HH: Wenn wir über simbabwische Schriftsteller oder afrikanische Schriftsteller im Allgemeinen sprechen, siehst du da Trends? 
Mein derzeitiger Lieblingstrend in der "afrikanischen" Literatur ist die Abkehr vom kolonialen Blick und die Neudefinition einer afrikanischen Weltsicht sowie eine Art, für und mit AfrikanerInnen zu schreiben. Ich interessiere mich auch sehr für den afrikanischen Futurismus in der spekulativen (und "wissenschaftlichen") Belletristik, der sich vom Afrofuturismus, einem eher amerikanischen Konzept, unterscheidet.
HH: Science Fiction wurde lange Zeit von der westlichen Welt dominiert, siehst du eine afrikanische Entwicklung in diesem Genre? 
Ich zögere, Afrofuturismus und Africanfuturism als "neu" zu definieren, da wir seit Jahrhunderten unsere eigenen Geschichten erzählen. Ich denke, man kann mit Fug und Recht behaupten, dass die westliche Welt sich mehr für afrikanische Geschichten interessiert, und das spiegelt sich in neuen Geschichten afrikanischer Autoren in jedem Genre wider, auch in der spekulativen Fiktion.
HH: Welche AutorInnen sind deiner Meinung nach am meisten unterschätzt?
Ich lese viele unbekannte Autoren und liebe es, neue Stimmen zu entdecken, daher ist diese Frage für mich schwer zu beantworten!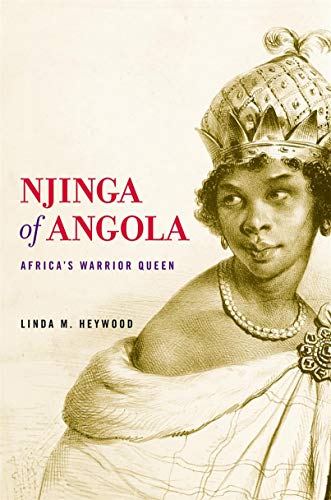 Buchrezension: Njinga of Angola_Africas Warrior Queen / Linda M.Heywood
320 pages.First published in 2017. Finished reading on June 15, 2021. Genre: Non-fiction.
Obwohl sie in der westlichen Welt weitgehend unbekannt ist, war die afrikanische Königin Njinga aus dem 17. Jahrhundert eine der vielseitigsten Herrscherinnen der Geschichte, eine Frau, die es an politischer Gerissenheit und militärischem Geschick mit Elisabeth I. und Katharina der Großen aufnehmen konnte. Linda Heywood bietet die erste umfassende Studie in englischer Sprache über das lange Leben und den politischen Einfluss von Königin Njinga und zeigt, wie diese Kleopatra Zentralafrikas die rücksichtslosen, von Männern dominierten Machtkämpfe ihrer Zeit geschickt steuerte – und schließlich überwand.
Nachdem sie 1626 von den Portugiesen abgesetzt worden war, verwandelte sie sich in eine erfolgreiche Sklavenhändlerin und grausame militärische Anführerin, die Kriege gegen die portugiesischen Kolonisatoren und ihre afrikanischen Verbündeten führte. Njinga überlebte mehrere Versuche, sie zu töten, eroberte den Nachbarstaat Matamba und regierte als Königin von Ndongo-Matamba.
Auf dem Höhepunkt ihrer Herrschaft in den 1640er Jahren beherrschte Njinga fast ein Viertel des heutigen Nordangola. Gegen Ende ihres Lebens schloss sie, des Krieges überdrüssig, Frieden mit Portugal und konvertierte zum Christentum, auch wenn ihre Hingabe an den neuen Glauben angezweifelt wurde.Wer war Königin Njinga? Darauf gibt es keine einfache Antwort. In einer Welt, in der Frauen von Männern unterdrückt wurden, überlistete sie wiederholt ihre männlichen Konkurrenten und setzte sich über die Geschlechternormen hinweg, indem sie sich sowohl männliche als auch weibliche Liebhaber nahm. Heute wird Njinga in Angola als Nationalheldin verehrt und in den Volksreligionen verehrt, und ihr komplexes Erbe wirkt weiter und ist ein wichtiger Teil des kollektiven Gedächtnisses der afro-atlantischen Welt.
Ich bin zum ersten Mal auf den Namen Nzinga gestoßen, als jede zweite aufgeweckte Person auf Twitter diesen Namen benutzte, aber ich war nie neugierig darauf, und es stellte sich heraus, dass ich es sein musste, weil aufgeweckte Menschen bereits etwas über diese erstaunliche Frau wussten.
Dieses Buch hat die Lücke in meinem Wissen sehr geschickt geschlossen. Obwohl es von einem Akademiker geschrieben wurde, ist es dennoch sehr zugänglich; allerdings werden Sie die wechselnden politischen Allianzen im Angola des 17. Jahrhunderts vielleicht genauso verwirrend und schließlich lähmend finden wie ich. Aber das macht nichts: Njinga ist eine faszinierende Figur, und ihr Leben ist eine fesselnde Lektüre.
Außerdem ist es immer erbaulich, über verschiedene koloniale Ansätze zu lesen:
Nachdem ich den größten Teil des Buches gelesen hatte, war ich sehr fasziniert von den Parallelen zwischen der Verwendung des Njinga-Mythos zur Schaffung einer nationalistischen Ikone im Angola der 1970er Jahre und der historischen und kürzlich wiederbelebten Mythenbildung um Nehanda in Simbabwe:
Weitere Ausschnitte auf Twitter hier:
Ich habe wieder über das westliche Beharren darauf nachgedacht, dass geschriebene Geschichte "echt" (für wen?) und "genau" (nach wessen Maßstäben? von wem interpretiert?) ist. Wie ein Volk gezwungen wurde, die Sprache des Kolonisators zu sprechen, und wie dadurch die mündliche Tradition unterbrochen/verzerrt/*zerstört* wurde. Vieles von dem, was in den zwei Jahrhunderten nach ihrer Herrschaft über Njinga geschrieben wurde, stammte aus portugiesischen Missionsquellen, die natürlich ihre eigenen Ziele verfolgten. Es ist interessant, dass die MPLA zwar auf lokale historische Quellen zurückgegriffen hat, aber auch einen Mythos für ihre eigene Agenda geschaffen hat. Vielleicht muss Geschichte immer umstritten sein, und müssen Erzählungen immer einen Zweck haben?
Wie dem auch sei, es lohnt sich, sich über diese überlebensgroße Frau des südlichen Afrikas und ihrer Geschichte zu informieren. Ich bin so stolz auf sie, als würde ihr Blut in meinen Adern fließen – auch wenn sie gelegentlich Kannibale war und Menschen in die Sklaverei schickte.
Bewertet: 8.5/10.
Rezension 2: Bulawayo Burning
Bulawayo Burning by Terence Ranger
272 pages. First published in 2010. Finished reading on 11 Nov 2020. Genre: Non-fiction.
Dieses Buch ist als Hommage und Antwort auf Yvonne Veras berühmten Roman Butterfly Burning gedacht, der 1946 in den Townships von Bulawayo spielt und der Autorin gewidmet ist. Es ist ein Versuch, zu erkunden, was historische Forschung und Rekonstruktion der literarischen Vorstellungskraft hinzufügen können. Als Antwort auf einen Roman imitiert diese Geschichte einige fiktionale Formen. Zwei der Kapitel sind in der Tat "Szenen", die sich mit kurzen Perioden intensiver Aktivität befassen. Andere sind in der Tat Biographien von "Charakteren". Das Buch stützt sich auf einen reichen Fundus an mündlichen Überlieferungen aus der Stadt und zitiert daraus. Neben dieser historisch-literarischen Interaktion ist das Buch ein Beitrag zur Geschichtsschreibung über die Städte des südlichen Afrikas, indem es die erfahrungsgeschichtlichen und kulturellen Dimensionen hervorhebt und schwarze und weiße städtische Sozialgeschichte miteinander verbindet.
TERENCE RANGER war emeritierter Rhodes-Professor für Rassenbeziehungen an der University of Oxford und Autor zahlreicher Bücher, darunter Writing Revolt, Are we not also Men? (1995), Voices from the Rocks (1999) und war Mitherausgeber von Violence and Memory (2000).
Um es ganz offen zu sagen: Ich stamme aus Bulawayo!
Daher habe ich dieses Buch über die Geschichte der Stadt meines Herzens natürlich mit Begeisterung gelesen. Die Zeitspanne (1893-1960) wurde aus einem bestimmten Grund gewählt, aber die Details enthalten wunderbare Fakten, auf die man wahrscheinlich nur durch umfangreiche Archivrecherchen stößt.
Herr Ranger hat dieses Buch als Antwort auf "Butterfly Burning" von Yvonne Vera geschrieben, ein Buch, das ich zuvor gelesen und genossen hatte (da muss es eine Geschichte geben!), so dass es hilfreich ist, die beiden Bücher zusammen zu lesen. Während Butterfly Burning Fiktion ist, ist dies das Sachbuch, das erklärt und bestätigt, wie das Leben in Bulawayo für Frau Veras Figuren ausgesehen haben könnte.
Ich war besonders an den Teilen interessiert, die die Geschichten bestätigten, die ich als Kind von meiner Mutter und meiner Großmutter gehört hatte. Ein besonderes historisches Ereignis, von dem ich nie etwas gehört habe, außer durch mündliche Überlieferungen, waren die Zhii-Aufstände von 1960.
Einige Auszüge aus dem Buch:
Wie schrecklich. (Außerdem ist das Vergraben von Beute anekdotisch gesehen seitdem passiert, nach Demonstrationen.)
Der Rest meiner Begeisterung über das Buch und seine Bedeutung für mich persönlich auf Twitter hier:@shonatiger
Ich glaube, Sie können dieses Buch in Simbabwe bei Weaver Press (Facebook) kaufen, aber es ist auch als E-Book bei Amazon erhältlich.
Kleiner Tipp: Wenn Sie in Simbabwe sind, unterstützen Sie bitte Weaver Press und andere unabhängige Buchläden/Verlage.
Bewertet: 9/10 (es gab lange Abschnitte, in denen es um Arbeit ging, die meine Augen zum Glä@shonatigernzen brachten, und deshalb gibt es keine 10).
shonatiger ist eine Bloggerin, die derzeit in Harare, Simbabwe, lebt. Ihr neuester Blog ist shonareads.wordpress.com, wo sie über die Bücher, die sie liest, bloggt. Man kann sie auch auf Twitter unter  und auf "Bookstagram" unter shonareads_ finden.