Ugandas First Woman – Author Jennifer Nansubuga Makumbi at the African Book Festival – Interview ger/engl
In a small series in the run-up to the African Book Festival in Berlin this summer, for which cultureafrica is a media partner, I would like to introduce a writer this time. Jennifer Nansubuga Makumbi grew up in Kampala, Uganda, then went to the UK for several teaching jobs. With her first novel, "Kintu", she catapulted herself into literary heaven. She has recently moved to Berlin, where she will be until next year as part of a DAAD Award Programme. Her second novel, "The First Woman", will be published in German by InterKontinental at the end of August. Hans Hofele spoke with the author for cultureafrica.
HH: Jennifer, you are already in Germany. What are your impressions of the country so far?
JNM: I can't say that much yet. I speak from a very limited experience. Berlin is very friendly. I was totally amazed because I don't speak a word of German. Now I can't wait for my teacher to teach me the language. Berlin is a very friendly city compared to London. I was expecting London. Rough and loud and fast. Berlin is much slower. In London, you constantly bump into people because everyone moves like the wind. Here you can see mainly families, students going to the park, and in the summer, it is absolutely warm. I thought: Am I back in Uganda or what? Also, I like the means of transport here, they are user-friendly, you don't get lost. My friends say Berlin looks very young, I think so too.
HH: Germany is a book and reading country, but literature from African countries does not yet play a major role. Nevertheless, authors like you, Yvonne Adhiambo Owuor, Petina Gappah, Tsitsi Dangarembga and of course, Chimamanda Ngozie Adichie have won the hearts of readers. Does it make you proud that it is mainly women who make African literature so successful?
JNM: You're right. Germany is apparently the largest book market in Europe. I've been publishing since 2014, but it wasn't translated into German until this year, and my book "The Fist Woman" will be published this summer. I have no experience with German readers. So I can't wait to see what German readers like to read. My first event at the Literaturhaus in Berlin is coming up.
It is, of course, wonderful that African women writers are gaining a foothold and being published in Europe. I remember that women were ignored for a long time when it came to writing. They had mainly focused on male writers from Africa. This is a new phenomenon. 20 years ago, African women began to become visible in literature. In 2006, Chimamanda (Adichie) began to assert herself. This is now a moment that we African women writers should use as best as we can.
Africa from the point of view of women has not yet been told enough. The Africa that the rest of the world knows is told from a very masculine perspective. That is why I am pleased to see that, for example, the slave experience is now also written by women, and in a different way. Women draw on history to make voices and female figures visible.
HH: Does it bother you that we are talking about "African literature" and not about specific, country- or language-related African literature?
JNM: The thing is that the West has been publishing our literature for a very long time. The West has determined what literature is, what is published. On the one hand we have Anglophone African literature, then we have Lusophone African literature and finally, Francophone African literature. All these literatures have been produced by Europe. And for a long time, Europe only produced certain writers who were mainly men. Most of the African literature was Nigerian, for example. Wole Soyinka, Chinua Achebe… There was only one Ugandan writer known all over the world and that was Okot P. Bitek. Perhaps one from Somalia, another from Kenya, I mean, we were all classified under African literature. But I don't worry about it that much. So much is being published currently.
There were times when you could read the entire literature of the continent within a year, today you can't even read the literature from Nigeria, there are so many! We are now letting people know that there is a country outside of Nigeria or South Africa or Zimbabwe, the three most famous literary countries… Nevertheless, only a few books can be seen in the West. Check out the African Writers Series, there are hundreds. But the West prefers to look at the few known ones.
HH: There is a young generation of writers in Africa that is seemingly, very impatient. Working on a manuscript for years isn't too appealing to this generation. A lot of things should appear quickly. Self-publishing is booming. Isn't that quite contrary to your approach to writing?
JNM: Each book is created in its own way. I write elaborate books with big themes, but I also write historical novels. I learned how to research at university. I have these advantages that these young people probably don't have. Studied literature. So I know what a good book has to be like. And that means a lot of work! When you start, there is so much to do. I decided to write a novel about this topic. And when I have a story, I write it in the book. Then I take my thoughts back and read the story again, this time as a reader. And I realize that I have the story that I wanted to write so much, the characters, the place, the thing, how it goes.
For young young people, this is often a point where they continue, they don't even realize that their books, their stories, their characters do different things than they intended. A book will rarely be finished in a year. There are many decisions to be made during the writing process. After I write a book, I send it to certain readers. Europeans, Africans in Europe; they give the opinion: "This is too African"… "It's so and so." It takes so much time to end up holding a book in your hand.
HH: One of your books, "The First Woman", has now been translated to German. It will be published by the new publishing house InterKontinental. It is also your second novel to be published. I honestly expected, Kintu, the first, to be translated to German. What can readers look forward to if they are willing to engage with the story of Kirabo?
A coming-of-age novel, a young and an old generation in dialogue, a child asking questions, all before the dangerous time of Idi Amin… A little autobiographical, I suppose?
JNM: It's not autobiographical in the sense of "this is my life". It reflects a life lived in the 1970s. I was a kid in the 1970s, I can't remember everything, but I wanted to record that time. I wanted to write about an African childhood. From a European point of view, this was a time of pain, of dying, of hunger… We often see childhood from the point of view of whites. I have portrayed our childhood in such a way that we can also say: "You have no idea how much fun we had as children in Africa!".
The special kind of feminism also plays a role in the novel. There is the idea that feminism comes from the West. A certain form of feminism. African feminism is different, has not been written down in a manifesto, there are no great figures with theories, no women marching around, no conferences. In Africa, feminism exists only in the form of oral traditions, in which the stories of women, their position, their self-image, are recorded. They must first be decrypted. They are contained in oral traditions, proverbs and folk tales.
HH: The use of oral traditions. Was this a development towards these traditions?
JNM: I grew up with oral traditions because I had access to my grandparents, spent a lot of time with them. There were many stories, idioms and novels in Luganda. I am very grateful for that. But then I went through a phase where all that disappeared. There was this divide, this conflict between my father and my grandfather. My grandfather had a lot to do with oral traditions, proverbs, Luganda…. my father, as a typical city-dweller, with English, books, Shakespeare. But the city and its culture was predominantly white, not the villages, it belonged to the Africans.
Until my first degree I mainly read these books, then a learning module on African oral traditions changed something in me. There I discovered that all the stories I was told as a child actually existed. I learned about myths and how society produces its myths. Legends too, they were almost always male. And folk tales. And I found out that all the folktales I was told as a child were also doing something else, that they were coded. The more I got into literature, the less I found my roots, the less I found stories in those kinds of traditions, the less I found them in Shakespeare.
It was just the canon they gave us. But my canon was all African traditions. And I had to go back to see what my ancestors left behind and work on that.
The myth of the origin of Uganda, the creation of Uganda is a myth; the first man is Kintu, the first woman is Nambi. So it was not surprising that my first novel was called "KINTU". I wrote it for Ugandans and Africans and said, "Look, this is what we have", and THE FIRST WOMAN also contains these parts of the myth, they occur in conversations there. Oral traditions have led me away from Western storytelling, but they function mainly as scaffolding, they are what hold my story together.
HH: Even your first book, Kintu, you wrote not for a Western audience but for an African, Ugandan audience. So is it still something special when African women writers address their original audience?
JNM: What happens to a book when you address Africa as a readership? Africans should write the way they want to write. In Africa, we were brought up as if we were Europeans too. So when Europeans write, they don't think about Africans and whether we understand them. But when we write as Africans, we think about whether they will understand the way we write." If Europeans think that we can read and understand Shakespeare, why was it not possible for the Germans, the English to read and understand how I write for Africans?… We write in European languages. When you write for the West, the West becomes the centre. The way I write for Africans, Africa becomes the centre.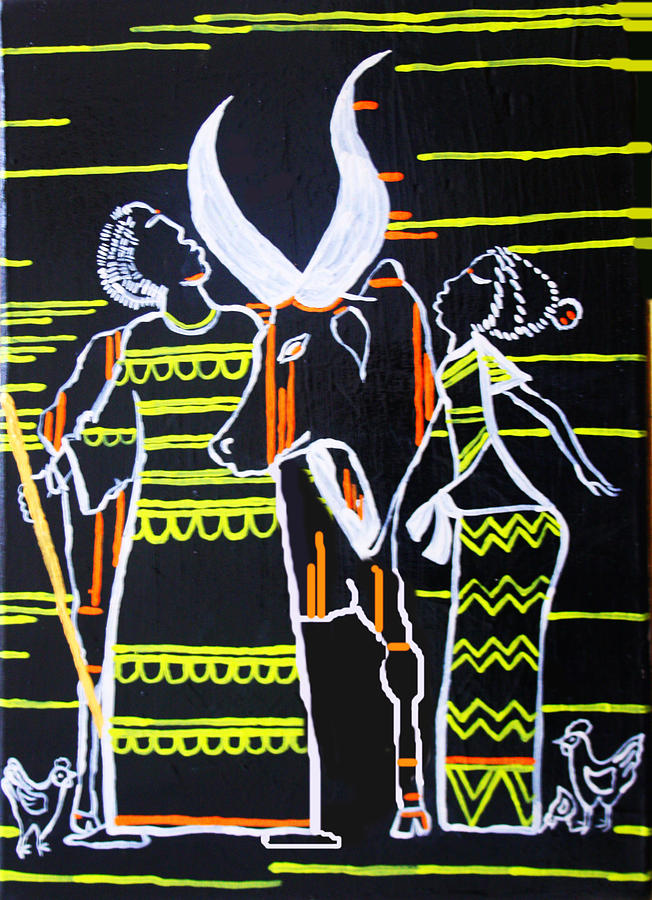 HH: In the culture industry it's like in society in general: a question of representation. Do you see a development towards a better representation of Black people in cultural institutions? What is your experience in Europe?
JNM: When I came to the UK in 2004, I could still read all the books that came out by African authors in the UK, now I cannot.
Africans have always migrated to the West as well. But Africans are now also moving into the positions where culture is produced. It's not that Africans didn't write before, they were just rejected. Those who had not been rejected were not promoted.
Now the blacks are tapping into a market in the West. So when this book is published, it will also be read. After 2020, after George Floyd, there was a movement that also affected the publishing world. They have realized that we need blacks at all stages of book production. We need black agents, we need black editors, we need black publishers, reviewers and awardees. This is a start to make a difference. African literature is now recognized not only by blacks, but also by whites. Whatever happens, white editors and publishers are aware that they can only understand black literature to a limited extent, so blacks are needed. And it has an impact up to the youngest: on black children and teens who see that there are books by black writers, they are encouraged to write too.
The death of George Floyd was sad, it was terrible – but it moved mountains. It would have taken us another 20 years to reach this stage that we have now, we are now closer to better representation.
HH: Last question: You are now in Germany, a country of readers. Do you like to read in front of an audience because people like to hear you?
JNM: Yes, I like that. Of course, at the moment only in English. But I know that people also want to hear the voice of an author. The German translation will be released at the end of August, so I will do a promo tour.
HH: Jennifer, thank you for your time.
Support non-profit publications like this, give us the possibility to pay african authors:  https://www.patreon.com/cultureafrica
DEUTSCHE VERSION
In einer kleinen Serie im Vorlauf des African Book Festivals in Berlin diesen Sommer, bei der cultureafrica Medienpartner ist, möchte ich diesmal eine Schriftellerin vorstellen. Jennifer Nansubuga Makumbi ist in Kampala, Uganda aufgewachsen, ging dann für mehrere Lehrtätigkeiten nach Großbritannien. Mit ihrem ersten Roman "Kintu" katapultierte sie sich in den literarischen Himmel. Seit kurzem ist sie in Berlin, wo sie bis nächstes Jahr im Rahmen eines DAAD Award Programs sein wird. Ihr zweiter Roman, "The First Woman"/"Die erste Frau" wird Ende August bei InterKontinental auf Deutsch erscheinen. Für cultureafrica sprach Hans Hofele mit der Autorin.
Hans Hofele: Jennifer, Sie sind bereits in Deutschland angekommen. Was sind deine bisherigen Eindrücke?
Jennifer Nansubuga Makumbi: Soviel kann ich noch gar nicht sagen. Ich spreche aus einer sehr begrenzten Erfahrung. Berlin ist sehr freundlich. Ich war total verblüfft, weil ich kein Wort Deutsch spreche. Jetzt kann ich es kaum erwarten, dass mein Lehrer mir die Sprache beibringt. Berlin ist eine sehr freundliche Stadt im Vergleich zu London. Ich hatte London erwartet. Rau und laut und schnell. Berlin ist viel langsamer.
In London stößt man ständig mit Leuten zusammen, weil sich alle unkontrolliert wie der Wind bewegen. Hier sieht man hauptsächlich Familien, Studenten, die in den Park gehen, und im Sommer ist es absolut warm. Ich dachte: Bin ich wieder in Uganda oder was? Außerdem mag ich die Verkehrsmittel hier, sie sind benutzerfreundlich, man geht nicht verloren.
Meine Freunde sagen, Berlin sieht sehr jung aus, das finde ich auch.
HH: Deutschland ist ein Buch- und Leseland, aber Literatur aus afrikanischen Ländern spielt noch keine große Rolle. Dennoch haben Autorinnen wie Du, Yvonne Adhiambo Owuor, Petina Gappah, Tsitsi Dangarembga und natürlich Chimamanda Ngozie Adichie die Herzen der Leserinnen gewonnen. Macht es dich stolz, dass es hauptsächlich Frauen sind, die die afrikanische Literatur so erfolgreich machen?
JNM: Du hast Recht. Deutschland ist offenbar der größte Buchmarkt in Europa. Ich veröffentliche seit 2014, wurde aber erst in diesem Jahr ins Deutsche übersetzt, und mein Buch "The Fist Woman" wird diesen Sommer erscheinen. Ich habe keine Erfahrung mit deutschen Lesern. Ich kann es also kaum erwarten, zu sehen, was deutsche Leser gerne lesen. Meine erste Veranstaltung im Berliner Literaturhaus steht an.
Es ist natürlich wunderbar, dass Afrikanische Schriftstellerinnen in Europa Fuß fassen und veröffentlicht werden. Ich erinnere mich, dass Frauen lange Zeit ignoriert wurden, wenn es um das Schreiben ging. Man hatte sich hauptsächlich auf männliche Schriftsteller aus Afrika konzentriert. Das ist ein neues Phänomen. Vor 20 Jahren begannen afrikanische Frauen, in der Literatur sichtbar zu werden. 2006 begann Chimamanda (Ngozie Adichie), sich durchzusetzen. Das ist jetzt ein Moment, den wir afrikanischen Schriftstellerinnen nutzen sollten, so gut wir können. Das Afrika aus der Sicht der Frauen ist noch nicht genug erzählt worden. Das Afrika, das der Rest der Welt kennt, wird aus einer sehr männlichen Perspektive erzählt.
Deshalb freut es mich zu sehen, dass z. B. die Sklavenerfahrung jetzt auch von Frauen geschrieben wird, und zwar anders. Frauen greifen auf die Geschichte zurück, um Stimmen und Frauenfiguren sichtbar zu machen..
HH: Stört es dich, dass wir von "afrikanischer Literatur" sprechen und nicht von spezifischer, Länder- oder Sprachbezogener afrikanischer Literatur?

JNM: Die Sache ist die, dass der Westen sehr lange Zeit unsere Literatur veröffentlicht hat. Der Westen hat bestimmt, was Literatur ist, was veröffentlicht wird. Auf der einen Seite haben wir anglophone Literatur, dann haben wir lusophone afrikanische Literatur, frankophone afrikanische Literatur. Alle diese Literaturen sind von Europa produziert worden. Und lange Zeit hat Europa nur bestimmte Schriftsteller, es waren ja hauptsächlich Männer, hervorgebracht. Der größte Teil der afrikanischen Literatur war nigerianisch. Wole Soyinka, Chinua Achebe…
Es gab nur einen ugandischen Schriftsteller, der in der ganzen Welt bekannt war, das war Okot P: Bitek. Hier noch einer aus Somalia, dort drei aus Kenia, wir alle wurden unter afrikanische Literatur eingeordnet. Aber ich mache mir nicht so viele Gedanken darüber. Es wird jetzt soviel publiziert.
Es gab Zeiten, da konnte man innerhalb eines Jahres die gesamte Literatur des Kontinents lesen, heute kann man nicht einmal mehr die aus Nigeria lesen, so viele gibt es! Wir lassen die Leute jetzt wissen, dass es ein Land außerhalb von Nigeria oder Südafrika oder Simbabwe gibt, den drei bekanntesten Literaturländern… Trotzdem sind im Westen nur wenige Bücher zu sehen. Schauen Sie sich die African Writers Series an, da gibt es Hunderte. Aber der Westen zieht es vor, sich die wenigen Bekannten anzuschauen.
HH: Es gibt eine junge Generation von Schriftstellern in Afrika, die ist sehr ungeduldig. Sie arbeitet nicht Jahre an einem Manuskript. Vieles soll schnell erscheinen. Self Publishing boomt. Das ist doch ganz im Gegensatz zu deiner Herangehensweise ans Schreiben?
JNM: Jedes Buch entsteht auf seine eigene Weise. Ich schreibe aufwendige Bücher mit großen Themen, aber ich schreibe auch historische Romane. Ich habe an der Uni gelernt, wie man recherchiert. Ich habe diese Vorteile, die diese jungen Leute wahrscheinlich nicht haben. Habe Literatur studiert. Ich weiß also, wie ein gutes Buch beschaffen sein muss. Und das bedeutet eine Menge Arbeit!
Wenn man anfängt, gibt es so viel zu tun. Ich habe mir vorgenommen, einen Roman über dieses Thema zu schreiben. Und wenn ich eine Geschichte habe, schreibe ich sie in das Buch. Dann nehme ich meine Gedanken zurück und lese die Geschichte erneut, diesmal als Leser. Und ich merke, dass ich die Geschichte, die ich so gerne schreiben wollte, die Figuren, den Ort, die Sache, wie die vor sich geht.
Das ist bei jungen jungen Leute oft ein Punkt, wo sie weitermachen, sie merken gar nicht, dass ihre Bücher, ihre Geschichte, ihre Figuren andere Dinge tun, als sie beabsichtigt haben. Ein Buch wird selten in einem Jahr fertig sein. Während des Schreibprozesses gibt es viele Entscheidungen zu treffen. Nachdem ich ein Buch geschrieben habe, schicke ich es an bestimmte Leserinnen. Europäer, Afrikaner in Europa; sie geben die Meinung ab: "Das ist zu afrikanisch"… "Das ist so und so".
Es braucht so viel Zeit, bis man am Ende ein Buch in der Hand hält.

HH: Eines Ihrer Bücher, "Die erste Frau", wurde jetzt ins Deutsche übersetzt. Es wird im neuen Verlag InterKontinental erscheinen.
Ich habe ehrlich gesagt, Kintu erwartet. Es ist ihr zweiter Roman, der erscheint. Worauf können sich die LeserInnen freuen, wenn sie bereit sind, sich auf die Geschichte von Kirabo einzulassen? Ein Coming-of-Age-Roman, eine junge und eine alte Generation im Dialog, ein Kind, das Fragen stellt, das ganze vor der gefährlichen Zeit Idi Amin… Ein wenig autobiografisch, nehme ich an?
JNM: Es ist nicht autobiografisch im Sinne von "das ist mein Leben". Es spiegelt ein Leben wider, das in den 1970er Jahren gelebt wurde. Ich war in den 1970er Jahren ein Kind, ich kann mich nicht an alles erinnern, aber ich wollte diese Zeit aufzeichnen. Ich wollte über eine afrikanische Kindheit schreiben. Aus europäischer Sicht war das eine Zeit des Schmerzes, des Sterbens, des Hungers… Wir sehen die Kindheit oft aus dem Blickwinkel der Weißen. Ich habe unsere Kindheit so dargestellt, dass wir auch sagen können: "Ihr habt keine Ahnung, wie viel Spaß wir als Kinder in Afrika hatten!". Auch die besondere Art des Feminismus spielt in dem Roman eine Rolle. Es gibt ja die Vorstellung, dass der Feminismus aus dem Westen kommt. Eine bestimmte Form des Feminismus. Der afrikanische Feminismus ist anders, wurde nicht in einem Manifest niedergeschrieben, es gibt keine großen Figuren mit Theorien, keine Frauen marschieren herum, keine Konferenzen.
In Afrika gibt es Feminismus nur in Form von mündlichen Überlieferungen, in denen die Geschichten der Frauen, ihre Stellung, ihr Selbstverständnis, aufgezeichnet sind. Sie müssen erst entschlüsselt werden. Sie sind in mündlichen Überlieferungen, in Sprichwörtern und Volksmärchen enthalten.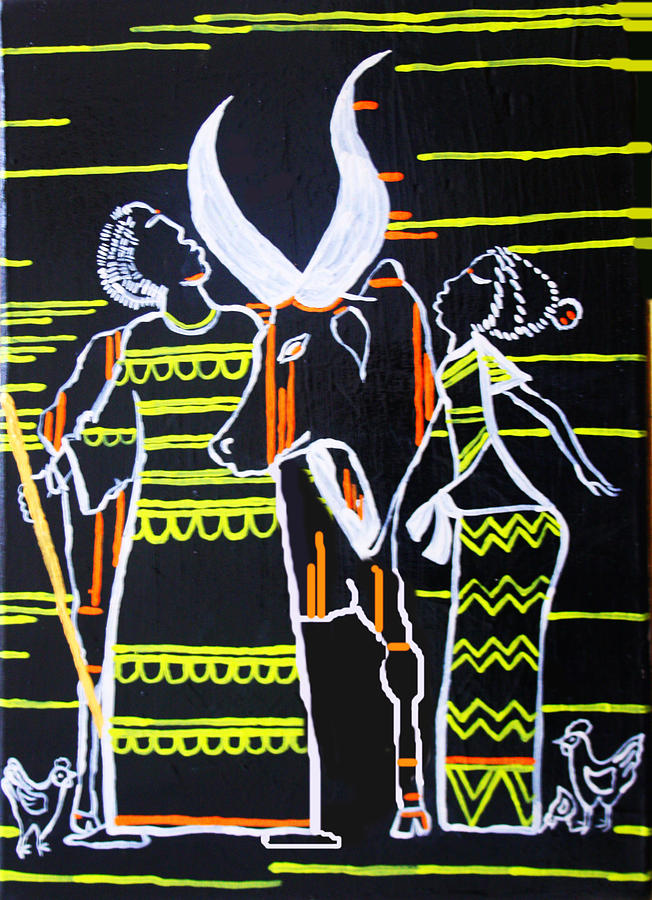 HH: Die Verwendung mündlicher Traditionen. War das eine Entwicklung hin zu diesen Traditionen?
JNM: Ich bin mit mündlichen Traditionen aufgewachsen, weil ich Zugang zu meinen Großeltern hatte, viel Zeit mit ihnen verbrachte. Es gab viele Erzählungen, Redewendungen und Romane in Luganda. Dafür bin ich sehr dankbar. Aber dann habe ich eine Phase durchgemacht, in der das alles verschwunden ist. Es gab diese Kluft, diesen Konflikt zwischen meinem Vater und meinem Großvater. Mein Großvater hatte viel mit mündlichen Überlieferungen, Sprichwörtern, Luganda zu tun… mein Vater als typischem Städter mit Englisch, Büchern, Shakespeare. Aber die Stadt und ihre Kultur war überwiegend von den den Weißen geprägt, nicht die die Dörfer, sie gehörte den AfrikanerInnen.
Bis zu meinem ersten Abschluss habe ich hauptsächlich diese Bücher gelesen, dann hat ein Lernmodul über mündliche afrikanische Traditionen etwas in mir verändert. Dort entdeckte ich, dass all die Geschichten, die ich als Kind erzählt bekam, tatsächlich existierten. Ich lernte etwas über Mythen und wie die Gesellschaft ihre Mythen produziert. Auch Legenden, fast immer waren sie männlich. Und Volksmärchen. Und ich habe herausgefunden, dass all die Volksmärchen, die ich als Kind erzählt bekam, auch noch etwas anderes tun, dass sie codiert sind. Je mehr ich mich mit Literatur beschäftigte, desto weniger fand ich meine Wurzeln, fand ich Geschichten in dieser Art von Traditionen, desto weniger fand ich sie in Shakespeare.
Es war eben der Kanon, den sie uns gaben. Mein Kanon waren aber alle afrikanischen Traditionen. Und ich musste zurückgehen, um zu sehen, was meine Vorfahren hinterlassen haben, und daran arbeiten.
Der Mythos vom Ursprung Ugandas, die Schöpfung Ugandas ist ein Mythos; der erste Mann ist Kintu, die erste Frau ist Nambi. So war es nicht verwunderlich, dass mein erster Roman "KINTU" hieß. Ich schrieb ihn für die Menschen in Uganda und Afrika und sagte: "Seht her, das ist es, was wir haben", und auch DIE ERSTE FRAU enthält diese Teile des Mythos, sie kommen dort in Gesprächen vor. Oral Traditions haben mich vom westlichen Storytelling weggeführt, aber sie funktionieren hauptsächlich als Gerüst, sie sind es, die meine Geschichte zusammen halten.

HH: Schon dein erstes Buch, Kintu, hast du nicht für ein westliches, sondern für ein afrikanisches, ugandisches Publikum geschrieben. Ist es also immer noch etwas besonderes, wenn sich afrikanische Autorinnen an ihr originäres Publikum wenden?
JNM: Was passiert mit einem Buch, wenn man sich an Afrika als Leserschaft wendet? Afrikaner sollten so schreiben, wie sie schreiben wollen. In Afrika sind wir so erzogen worden, als wären wir auch Europäer gewesen. Wenn Europäer also schreiben, denken sie nicht an Afrikaner und daran, ob wir sie verstehen. Aber wenn wir als Afrikaner schreiben, denken wir darüber nach, ob sie die Art und Weise, wie wir schreiben, verstehen werden". Wenn wir Europäer meinen, dass wir Shakespeare lesen und verstehen können, warum war es dann nicht möglich, dass die Deutschen, die Engländer lesen und verstehen können, wie ich für Afrikaner schreibe?. Wir schreiben in europäischen Sprachen. Wenn man für den Westen schreibt, wird der Westen zum Zentrum. So wie ich für Afrikaner schreibe, steht Afrika im Mittelpunkt.
HH: In der Kulturindustrie ist es wie in der Gesellschaft allgemein: Eine Frage der Repräsentation. Siehst du eine Entwicklung hin zu einer besseren Repräsentation Schwarzer Menschen in kulturellen Institutionen? Wie ist deine Erfahrung in Europa?
JNM: Als ich 2004 nach GB kam, konnte ich noch alle Bücher lesen, die von afrikanischen Autoren in GB herauskamen, jetzt kann ich das nicht mehr.
Die Afrikaner sind immer auch in den Westen eingewandert. Aber die Afrikaner bewegen sich jetzt auch in die Positionen, in denen Kultur produziert wird. Es ist nicht so, dass Afrikaner vorher nicht geschrieben hätten, sie wurden nur abgelehnt. Diejenigen, die nicht abgelehnt worden waren, wurden nicht gefördert.
Jetzt erschließen sich die Schwarzen einen Markt im Westen. Wenn dieses Buch also veröffentlicht wird, wird es auch gelesen werden. Nach 2020, nach George Floyd, gab es eine Bewegung, die auch die Verlagswelt betraf. Sie haben erkannt, dass wir in allen Phasen der Buchproduktion Schwarze brauchen. Wir brauchen Schwarze Agenten, wir brauchen Schwarze Lektoren, wir brauchen Schwarze Verleger, Rezensenten und Preisverleiher. Das ist ein Anfang, um einen Unterschied zu machen. Afrikanische Literatur wird jetzt nicht nur von Schwarzen, sondern auch von Weißen anerkannt.
Was auch passiert: Weiße Redakteure und Verleger sind sich bewusst, dass sie Schwarze Literatur nur begrenzt verstehen können, also werden Schwarze gebraucht. Und es hat Auswirkungen bis zu den Jüngsten: auf Schwarze Kinder und Jugendliche, die sehen, dass es Bücher von Schwarzen Schriftstellern gibt, sie werden ermutigt, auch zu schreiben.
Der Tod von George Floyd war traurig, er war schrecklich – aber er hat Berge versetzt. Wir hätten weitere 20 Jahre gebraucht, um dieses Stadium zu erreichen, das wir jetzt haben, wir sind jetzt näher dran an besserer Repräsentation.
HH: Letzte Frage: Du bist jetzt in Deutschland, einem Land der LeserInnen. Magst du es, vor Publikum zu lesen, weil die Leute dich dann auch gerne hören?
JNM: Ja, ich mag das. Natürlich im Moment nur auf Englisch. Aber ich weiß, dass die Leute auch die Stimme eines Autors hören wollen. Ende August kommt die deutsche Übersetzung heraus, also werde ich eine Promo-Tour machen.
HH: Jennifer, vielen Dank für deine Zeit.
Support non-profit publications like this, give us the possibility to pay african authors:  https://www.patreon.com/cultureafrica
Alle TeilnehmerInnen am African Book Festival finden Sie unter:
https://africanbookfestival.de/participants-2/
Am Interview mitgewirkt hat außerdem: Lorna Likiza. Copyright: cultureafrica.net 2022