Centering Black Literature: An Interview with James Murua- engl/ger
In the run-up to the African Book Festival in Berlin, of which cultureafrica.net is a media partner, there will be a series of interviews with participants and experts in the African literary scene. This time it is James Murua. He is one of the most influential bloggers in the African literary scene. He has attended many literary festivals, both nationally and internationally. His website jamesmurua.com is one of the most successful on the continent. James Murua lives in Nairobi, Kenya. The interview was conducted during the Heroe Book Fair literary festival in Mombasa. By Hans Hofele
FÜR DEUTSCHE VERSION NACH UNTEN SCROLLEN
HH: James, you started into the book and literary scene from a different angle, right?
JM: First, I developed websites. I also had a tech blog. Around 2003, somebody convinced me to do a project for a magazine which ended up being a waste of two years (laughs). It was a waste of time when it came to the topics, but at least I could build up a network of people.
I was a regular at Open Mic events in Nairobi. It was the hottest thing at the time. I made analysis of these kinds of events. But the people didn't like it. They preferred hanging out and just chilling instead. They didn't like being analyzed.
There was Charles Potash, one of the writers of the movie Nairobi Half Life, Bankelele and me. I wrote a regular, newspaper column for The Star, and this was salaried.
HH: So people now knew you from the newspaper too…
JM: The newspaper was a blur really, but they used to promote my column. I did this for many years. But from one point on I asked myself: What are you writing about? What are you doing?
I write for a newspaper, I am an editor… thats the ugali writing. But I also had my own webpage, james murua.com. I recognized that writers I have wrote about or discovered to be good – did not find any recognition in media. So, 2016, when I left the newspaper, I wanted to blog full time.
HH: Talking about self-publishing. There are numerous self-published books in Kenya. You deal a lot with literature. Why do you think so many Kenyan authors choose to be self-published? Is it a lack of faith in traditional publishing?
JM: When my page become so popular, I received a book copy or manuscript nearly every second day. But I am not interested in being an editor. I had to make it clear on my page that for such work, people must pay for it.
But I realized that there are so many writers in Kenya and we don't have a good publishing ecosystem. This is the same in many other African countries. We have an academic publishing system that's not for creative writers. They can't send their works to some publishing houses here. Publishing of creative writing is almost non-existent. What happens then? Lots of people write a manuscript, go to the printer and print it out.
If a book is good, I write about it. I don't want to write about bad books.
HH: The younger generation of writers nowadays is not willing to wait until their craft improves. They want to be published immediately. What are your thoughts on this?
JM: Literature is one craft that needs time. You need time to sit down. And you need to re-work it, over and over. Another phenomena: Some people think, if they have enough followers on social media who support and praise them, then they should just go ahead and be published. They don't appreciate constructive criticism.
HH: Majority of the authors in Kenya and other African countries cannot live from writing alone. Some relocate abroad for better opportunities and chances. Is it entirely impossible to make a living out of writing in Africa?
JM: If you look internationally, few writers can live only from writing. In Germany too. Only about 150 or 200 people can live entirely from writing in that country. Here in Kenya, even fewer. We have no ecosystem for writers to support them. They have to go abroad and look for opportunities. In the past you definitely had to go abroad, to London, New York, Lisbon, Paris, Berlin to try and make it as a writer.
The last decade, this has shifted. We have slowly started to create an ecosystem for Literature in the continent. We have Literary Festivals across Africa. People are sharing. And the content is more focused on the continent. Jennifer Makumbi is such an example. She lives in Europe but her writing is very Ugandan. And there is an audience. Not only white women read this. Or for example, South Africa. Books are made popular through their book clubs, through their communities. There is a shift and I think it is possible that, in the next ten years or so, lots of writers can come back to African countries.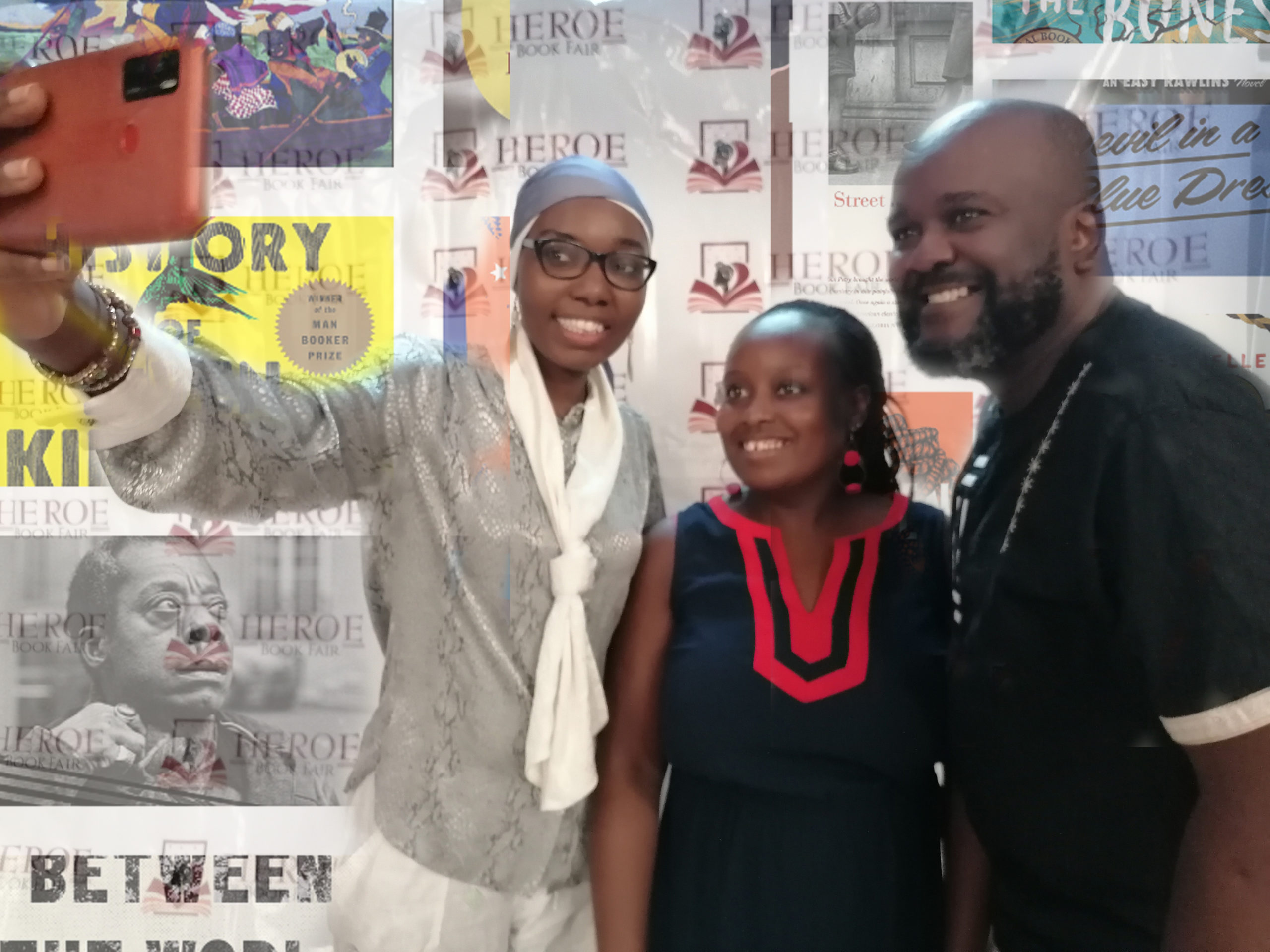 HH: Do you think that the last year with its successful African Literary Prizes Winners is also a significant shift? That African authors cannot be ignored any longer?
JM: Last year was when African writing was spring-bottled. Let me give you an example of Afrobeats, the Nigerian music genre. It has always been there. The artists had always been there. Now, with the huge international success, they can't be ignored anymore. I believe this is now currently happening too with the African literary scene. We are getting there. We don't need stories anymore which have to be attractive to the white readership. We are doing stories in many different genres, spaces, etc. 2021 was the year when the world realized, we are working hard, we are producing the art, we are producing high quality – but now, you can't ignore it. And that's why I am still here.
HH: Most people say, the death of George Floyd was tragic but also changed a lot. White people are more aware of black issues now. Black people all over the world have been united by this occurrence and a lot has been published since then. What's your take on this?
JM: I haven't watched the video of the death of George Floyd. I can't watch it. In the aftermath, I noticed, for the first time, people in publishing, who are normally not very loud, had started campaigns, e.g. #publishingpaidme. It was such an eye opener for me. I always knew that my brothers and sisters in the US, the UK, Germany, are part of the system there. When I saw the hashtag, I realized, only about 1% of the books sold overseas are by black authors.
So I shifted my content to all black authors from Africa, the diaspora and the Caribbean. If you are African or if you are black, I will include you in my content because there is also in Africa not so much knowledge of those writers abroad.
HH: What are your experiences with Black and African Literature in Germany?
JM: I was in Germany for the first time in the 2000s after college. I see a shift. I did a project with Frankfurter Buchmesse in 2021, where we had discussions with African publishers and authors. I have also been to African Book Festival and others. The thing I do notice is, there is something happening.
As much as I love to see translations of African authors, I would like to see more successful, black writers in Germany like Sharon Dodua Otoo. I would like to read the stories of them. They are not easily available. But I am hopeful for that soon, even if we are just at the beginning of the process.
Hopefully, at Heroe Book Fair, Mombasa, we will also see one of these black authors from Germany here.
HH: I guess you agree that physical attending of a book festival is an important element. Zoom made it easy to access writers for festivals, when it had not been very easy previously, to invite them physically with all the cost factors.
JM: We have to do what we have to do. We have to survive. For an interesting discussion with sometimes unexpected questions, Zoom is not favorable. This happens only in reality. 90% of the networking done at a book festival is done through physical meetings. Look at the after-festival meeting we had yesterday at the bar. What can replace such informal meetings?
In formal settings you can't even tell people what are the mistakes. In informal meetings, that works. We need them all, the writer, the poet, the novelist, the publisher, physically to come.
Dont forget: Writing is a solitary job. People are sitting at home and typing. In the past, the writers went to a library and met the librarian but now all is done with the internet. Festivals are those rare moments where the writers are engaging with the people who are consuming their products. It's good to sit there and have a drink with one of my favorite writers.
Edited by Lorna Likiza
Links:
https://interkontinental-verlag.de/
GERMAN VERSION
Im Vorfeld des African Book Festivals in Berlin, dessen Medienpartner cultureafrica.net ist, gibt es eine Reihe von Interviews mit Teilnehmer:innen und Kenner:innen der afrikanische Literaturszene. Diesmal ist es James Murua. Er ist einer der einflussreichsten Blogger in der afrikanischen Literaturszene. Viele Literaturfestivals hat er besucht, national wie international. Seine website jamesmurua.com zählt zu den erfolgreichsten auf dem Kontinent. James Murua lebt mit seiner Frau, der Schriftstellerin Zukiswa Wanner in Nairobi, Kenia. Das Interview wurde während des Literaturfestivals Heroe Book Fair in Mombasa geführt.
Von Hans Hofele
Hans Hofele: James, du bist ursprünglich aus einer anderen Scene in die Buch- und Literaturszene eingestiegen, richtig?
James Murua: Zuerst habe ich Websites entwickelt. Ich hatte auch einen Tech-Blog. Um 2003 herum hat mich jemand überredet, ein Projekt für ein Magazin zu machen, das am Ende eine Verschwendung von zwei Jahren war (lacht). Es war eine Zeitverschwendung, was die Themen anging, aber zumindest konnte ich mir ein Netzwerk von Leuten aufbauen.
Ich war regelmäßig bei Open-Mic-Veranstaltungen in Nairobi. Das war zu der Zeit der letzte Schrei. Ich habe diese Art von Veranstaltungen analysiert und bewertet. Aber die Leute mochten das nicht. Sie zogen es vor, einfach nur abzuhängen und zu chillen. Sie mochten es nicht, wenn man sie analysierte.
Da waren auch noch Charles Potash, einer der Autoren des Films Nairobi Half Life, Bankelele und ich. Ich schrieb eine regelmäßige Zeitungskolumne für The Star, und das war bezahlte Arbeit.
HH: Die Leute kannten dich jetzt also auch aus der Zeitung…
JM: Die Zeitung war wirklich etwas zwiespältig, aber sie haben meine Kolumne immer beworben. Ich habe das viele Jahre lang gemacht. Aber ab einem bestimmten Punkt fragte ich mich: "Worüber schreibst du eigentlich? Was machst du eigentlich?"
Ich schreibe für eine Zeitung, ich bin Redakteur … das ist ugali-writing, es bezahlt die Miete.. Aber ich hatte auch meine eigene Webseite, james murua.com. Ich habe gemerkt, dass Autoren, über die ich geschrieben oder die ich für gut befunden habe, in den anderen Medien keine Anerkennung gefunden haben. Als ich 2016 bei der Zeitung aufhörte, wollte ich hauptberuflich bloggen.
HH: Thema: Self-Publishing. In Kenia gibt es zahlreiche im Selbstverlag erschienene Bücher. Sie haben viel mit Literatur zu tun. Warum entscheiden sich Ihrer Meinung nach so viele kenianische Autoren für das Selbstverlagsverfahren? Fehlt es an Vertrauen in das traditionelle Verlagswesen?
JM: Als meine Seite so populär wurde, erhielt ich fast jeden zweiten Tag ein Buchexemplar oder Manuskript. Aber ich bin nicht daran interessiert, ein Verleger zu sein. Ich musste auf meiner Seite klarstellen, dass man für eine solche Arbeit bezahlen muss.
Aber mir wurde klar, dass es in Kenia so viele Schriftsteller gibt und wir kein gutes Verlagssystem haben. Das ist auch in vielen anderen afrikanischen Ländern so. Wir haben ein akademisches Verlagssystem, das nicht für kreative Schriftsteller geeignet ist. Sie können ihre Werke nicht an einige Verlage hier schicken. Es gibt so gut wie keine Veröffentlichungen von kreativen Texten. Was passiert dann? Viele Leute schreiben ein Manuskript, gehen zum Drucker und drucken es aus.
Wenn ein Buch gut ist, schreibe ich darüber. Ich will nicht über schlechte Bücher schreiben.
HH: Die jüngere Generation von Schriftsteller:innen ist heutzutage weniger bereit zu warten, bis ihr Handwerk sitzt. Sie wollen sofort veröffentlicht werden. Wie denkst du darüber?
JM: Literatur ist ein Handwerk, das Zeit braucht. Man braucht Zeit, um sich hinzusetzen. Und man muss es immer wieder überarbeiten. Ein anderes Phänomen: Manche Leute denken, wenn sie genug Anhänger in den sozialen Medien haben, die sie unterstützen und loben, dann sollten sie einfach veröffentlicht werden. Sie wissen konstruktive Kritik nicht zu schätzen.
HH: Die Mehrheit der Autoren in Kenia und anderen afrikanischen Ländern kann nicht allein vom Schreiben leben. Einige ziehen ins Ausland, um bessere Möglichkeiten und Chancen zu haben. Ist es völlig unmöglich, in Afrika vom Schreiben zu leben?
JM: Wenn man sich international umschaut, gibt es nur wenige Schriftsteller, die nur vom Schreiben leben können. Auch in Deutschland. Nur etwa 150 oder 200 Menschen können hierzulande ausschließlich vom Schreiben leben. Hier in Kenia sind es noch weniger. Wir haben kein Ökosystem für Schriftsteller, um sie zu unterstützen. Sie müssen ins Ausland gehen und nach Möglichkeiten suchen. Früher musste man auf jeden Fall ins Ausland gehen, nach London, New York, Lissabon, Paris, Berlin, um zu versuchen, als Schriftsteller Erfolg zu haben.
Im letzten Jahrzehnt hat sich das geändert. Wir haben langsam begonnen, ein Ökosystem für die Literatur auf dem Kontinent zu schaffen. Wir haben Literaturfestivals in ganz Afrika. Die Menschen tauschen sich aus. Und die Inhalte sind stärker auf den Kontinent ausgerichtet. Jennifer Makumbi ist ein solches Beispiel. Sie lebt in Europa, aber ihr Schreiben ist sehr ugandisch. Und es gibt ein Publikum. Nicht nur weiße Frauen lesen das. Oder zum Beispiel Südafrika. Bücher werden durch ihre Buchklubs, durch ihre Gemeinden populär gemacht. Es gibt einen Wandel, und ich denke, es ist möglich, dass in den nächsten zehn Jahren oder so viele Schriftsteller in die afrikanischen Länder zurückkehren können.
2021 war das Jahr, in dem die Welt erkannte: Wir arbeiten hart, wir produzieren Kunst, wir produzieren hohe Qualität – aber jetzt kann man das nicht mehr ignorieren. Und deshalb bin auch ich immer noch hier.
HH: Glaubst du, dass das letzte Jahr mit der großen Anzahl von afrikanischen Autor:innen beim Erreichen von Literaturpreisen auch eine bedeutende Veränderung darstellt? Dass afrikanische Autor:innen nicht länger ignoriert werden können?
JM: Letztes Jahr hat die Afrikanische Literatur einen neuen Aufschwung erlebt. Lass mich ein Beispiel nennen: Afrobeats, das nigerianische Musikgenre. Das hat es schon immer gegeben. Die Künstler waren schon immer da. Jetzt, mit dem großen internationalen Erfolg, können sie nicht mehr ignoriert werden. Ich glaube, das passiert jetzt auch mit der afrikanischen Literaturszene. Wir sind auf dem Weg dorthin. Wir brauchen keine Geschichten mehr, die für die weiße Leserschaft attraktiv sein müssen. Wir machen Geschichten in vielen verschiedenen Genres, Räumen usw. 2021 war das Jahr, in dem die Welt erkannte: Wir arbeiten hart, wir produzieren Kunst, wir produzieren hohe Qualität – aber jetzt kann man das nicht mehr ignorieren. Und deshalb bin auch ich immer noch hier.
HH: Teilst du die Ansicht, dass der Mord an George Floyd, der sowohl weltweit Empörung ausgelöst hat, aber auch eine Bewgung in Gang gebracht hat? Der Westen ist aus seiner Lethargie, der Ignoranz gegenüber der Diskriminierung von Schwarzen in allen Gesellschaftsschichten, erwacht. Schwarze Menschen auf der ganzen Welt sind durch dieses Ereignis vereint worden, und seitdem wurde viel veröffentlicht. Was ist deine Meinung dazu?
JM: Ich habe mir das Video vom Tod von George Floyd nicht angesehen. Ich kann es mir nicht ansehen. In der Folgezeit habe ich zum ersten Mal bemerkt, dass Leute aus dem Verlagswesen, die normalerweise nicht sehr laut sind, Kampagnen gestartet haben, z. B. #publishingpaidme. Das war ein echter eye opener für mich. Ich wusste immer, dass meine Brüder und Schwestern in den USA, im Vereinigten Königreich und in Deutschland Teil des dortigen Systems sind. Als ich den Hashtag sah, wurde mir klar, dass nur etwa 1 % der in Übersee verkauften Bücher von schwarzen Autoren stammen.
Also habe ich meine Inhalte auf alle schwarzen Autoren aus Afrika, der Diaspora und der Karibik verlagert. Wenn Sie afrikanisch oder schwarz sind, werde ich Sie in meine Inhalte einbeziehen, denn auch in Afrika weiß man nicht so viel über diese Autoren im Ausland.
HH: Was ist deine Erfahrung mit Schwarzer und Afrikanischer Literatur in Deutschland?
JM: Ich war in den 2000er Jahren nach dem Studium zum ersten Mal in Deutschland. Ich sehe eine Verschiebung. Ich habe 2021 ein Projekt mit der Frankfurter Buchmesse durchgeführt, bei dem wir Gespräche mit afrikanischen Verlegern und Autoren geführt haben. Ich war auch auf dem African Book Festival und anderen Veranstaltungen. Was mir auffällt, ist, dass sich da etwas tut.
So sehr ich mich über Übersetzungen afrikanischer Autoren freue, so sehr würde ich mir wünschen, dass es in Deutschland mehr erfolgreiche schwarze Autoren wie Sharon Dodua Otoo gibt. Ich würde gerne die Geschichten von ihnen lesen. Sie sind nicht leicht erhältlich. Aber ich bin zuversichtlich, dass das bald der Fall sein wird, auch wenn wir erst am Anfang des Prozesses stehen.
Hoffentlich werden wir auch auf Literaturveranstaltungen wie hier gerade, der Heroe Book Fair in Mombasa, auch schwarze Autor:innen aus Deutschland hier sehen.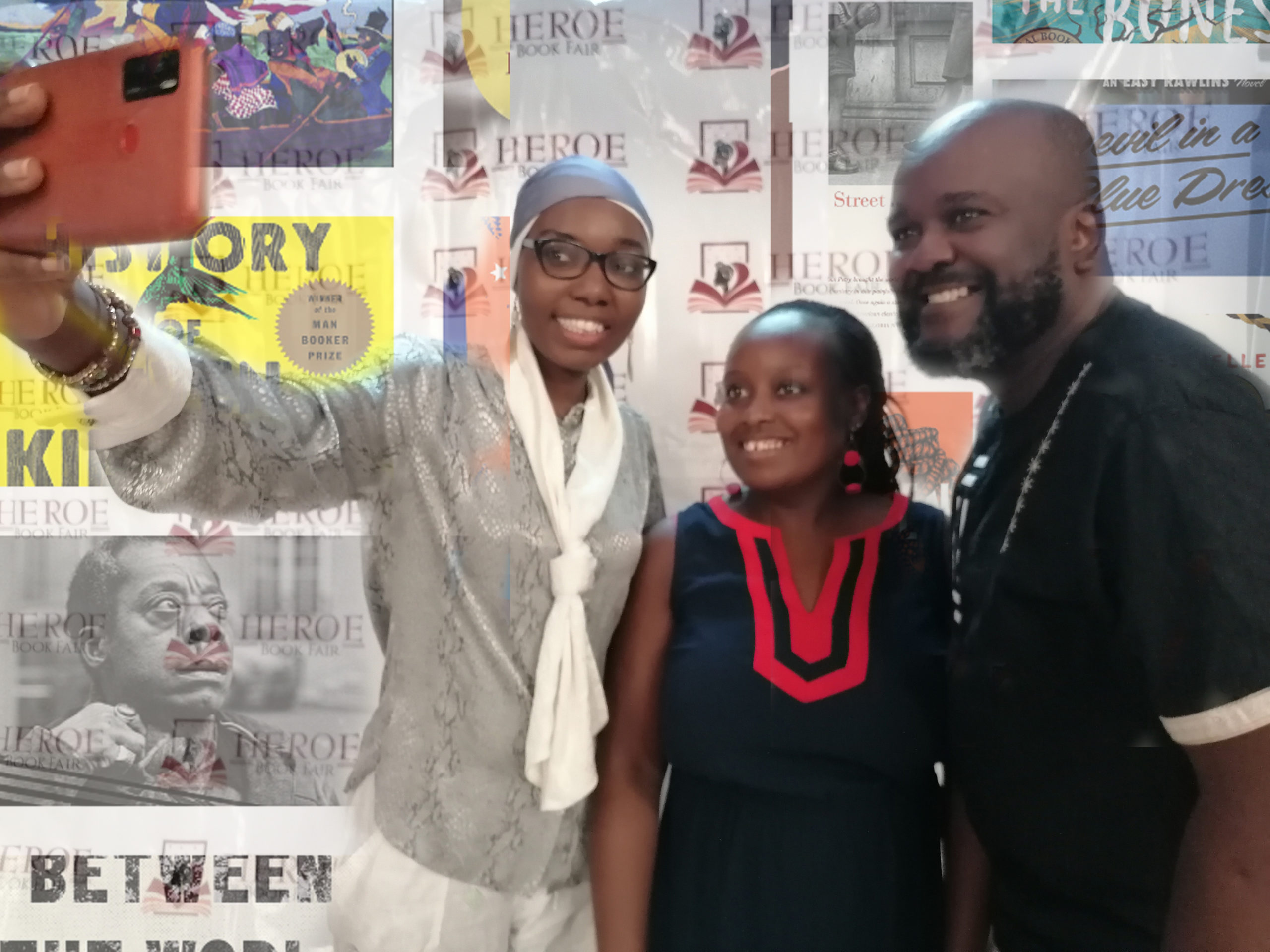 In einem formellen Rahmen kann man den Leuten nicht einmal sagen, was die Fehler sind. Bei informellen Treffen funktioniert das. Wir brauchen sie alle,  Schriftsteller:innen,  Dichter:innen, Romanautor:innen, Verleger:innen, Agent:innen, alle sollen sich in echt begegnen.
HH: Ich nehme an, du stimmst zu, dass die physische Anwesenheit bei einem Buchfestival ein wichtiges Element ist. Zoom hat es leicht gemacht, Autoren für Festivals zu gewinnen, während es vorher nicht so einfach war, sie physisch einzuladen, mit all den Kostenfaktoren. Aber etwas hat doch immer gefehlt?
JM: Wir müssen tun, was wir tun müssen. Wir müssen überleben. Für eine interessante Diskussion mit manchmal unerwarteten Fragen ist der Zoom nicht günstig. Das passiert nur in der Realität. 90 % der Vernetzung auf einem Buchfestival erfolgt durch persönliche Begegnungen. Seh dir das Treffen nach dem Festival an, das wir gestern in der Bar hatten. Was kann solche informellen Treffen ersetzen?
In einem formellen Rahmen kann man den Leuten nicht einmal sagen, was die Fehler sind. Bei informellen Treffen funktioniert das. Wir brauchen sie alle,  Schriftsteller:innen,  Dichter:innen, Romanautor:innen, Verleger:innen, Agent:innen, alle sollen sich in echt begegnen.
Vergessen wir nicht: Schreiben ist eine einsame Arbeit. Man sitzt zu Hause und tippt. Früher gingen die Schriftsteller in eine Bibliothek und trafen sich mit dem Bibliothekar, der Biblothekarin, aber heute wird alles über das Internet erledigt. Festivals sind die seltenen Momente, in denen die Schriftsteller mit den Menschen in Kontakt kommen, die ihre Produkte konsumieren. Es ist schön, dort zu sitzen, zu reden und mit einem meiner Lieblingsautor:innen etwas zu trinken.
Mitarbeit: Lorna Likiza
Links:
http://jamesmurua.com, http://africanbookfestival.de, https://interkontinental-verlag.de, /http://heroebookfair.com
copyright: cultureafrica.net 2022