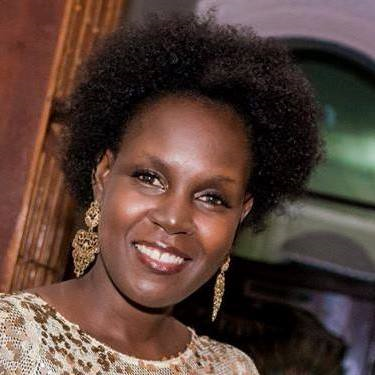 Kenyan Cuisine has a lot to offer: Interview with Yvonne Mula
From our series on African cuisine, today we visit Mikaye restaurant in Mombasa. Yvonne Mula will tell her philosophy of african cuisine in the interview.
By Lorna Likiza
Mikaye Restaurant is an African themed restaurant located on Links Road, Nyali, in Mombasa. It is owned by Yvonne Mula, a passionate lover of the Arts with a huge appreciation of Kenyan food. I visited Mikaye Restaurant one Friday, late afternoon in early June.
FÜR DIE DEUTSCHE VERSION BITTE NACH UNTEN SCROLLEN
The bar area downstairs welcomes you into the space. Wooden shelves where an assortment of drinks are arranged are complimented by low hanging Ankara lampshades. In the evening, they are a sight to behold with the lamps illuminating them. The bar counter is long and wooden and so are the seats lining one length of it, also wooden.
On one end of the bar area, are sofa style, wooden seats with white and Ankara cozy pillows nestled in arched, large windows. Two more low hanging Ankara lampshades and a small, wooden, square table completes the corner's look. Mikaye Restaurant is Art in itself with African inspired black and white and also colored, glass framed photographs neatly lining the walls downstairs.
And due to the Covid-19 situation, the inner room just after the bar, is sparsely furnished in keeping with the social distancing guidelines. But a shelf holding a set of tea cups among other things, a gold chandelier and Ankara curtains on the windows gives this particular part of the restaurant, a homely feel. For careless climbers, the winding, iron sheet staircase leading to the rooftop may not be the best.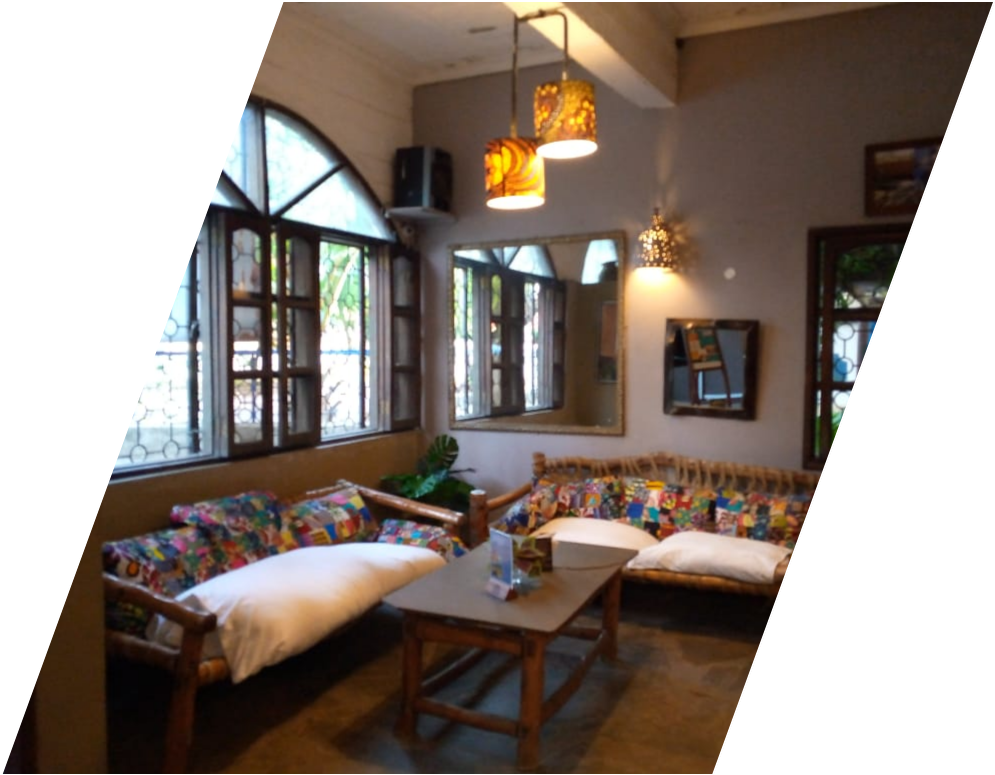 However, they take you to a space that is deliberately not too big to provide intimacy, well aerated and plant filled. In recycling efforts, tomato crates and cut open cooking oil containers hold most of the plants, green and full of life. Cleverly, each table is separated by plants. Typical kerosene lamps common in many Kenyan households across the country provide illumination in the evenings. Swahili inspired lamps are also present.
Tables and chairs in this space are mostly wooden and one rustic seat with soft cushions, for those seeking more comfort. The bar area upstairs is interesting. Shelves holding the drinks in the late evenings are Swahili themed and painted white. In the middle, a TV screen is mounted. Overhanging plant pots are held up, some by macramé and others by normal, strong thread.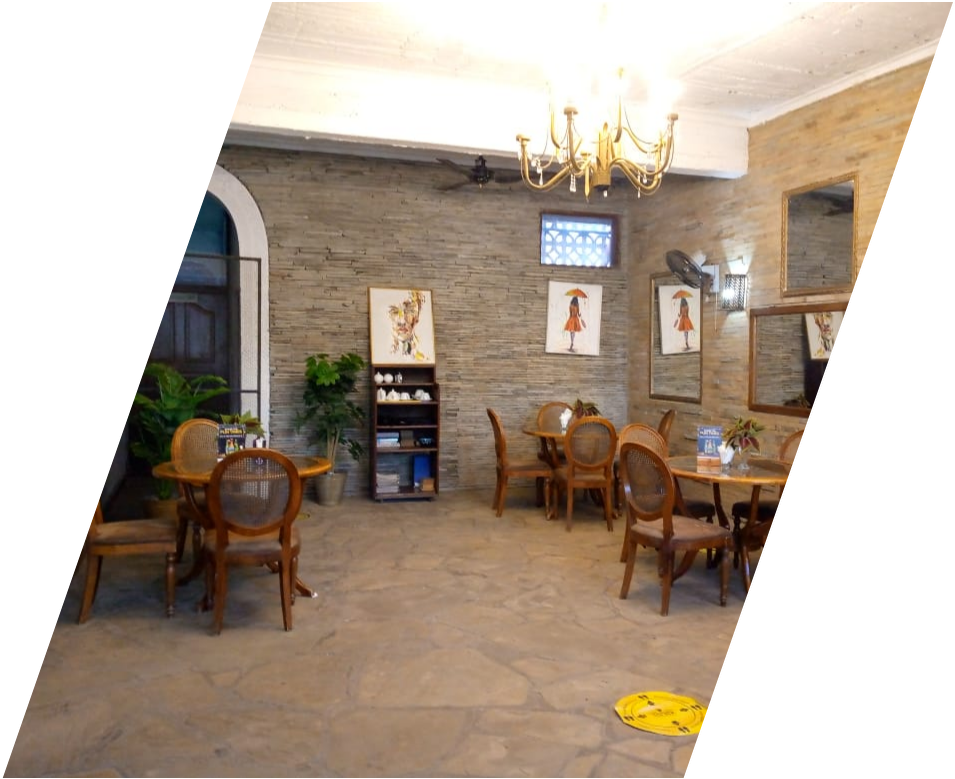 Mikaye Restaurant also boasts an open space on the rooftop for events. In my later conversation with Yvonne, I learn that they regularly host baby showers, bridal showers, Chamas (merry-go-round saving groups) and women empowerment activities in this space. Each end of it is lined with plants and one end shielded by an art inspired fabric.
The menu is affordable and for a glass of cocktail juice, ¼ marinated, roasted beef, white ugali and kachumbari, I spent 950Kshs. The cocktail and food, I must add were delicious and value for money. Worth mentioning is the amazing staff that constantly checks up on you to find out whether you are comfortable or not. I would recommend the restaurant for a romantic date, business meeting, catching up with friends or just enjoying your drinks solo.
Rating: 4/5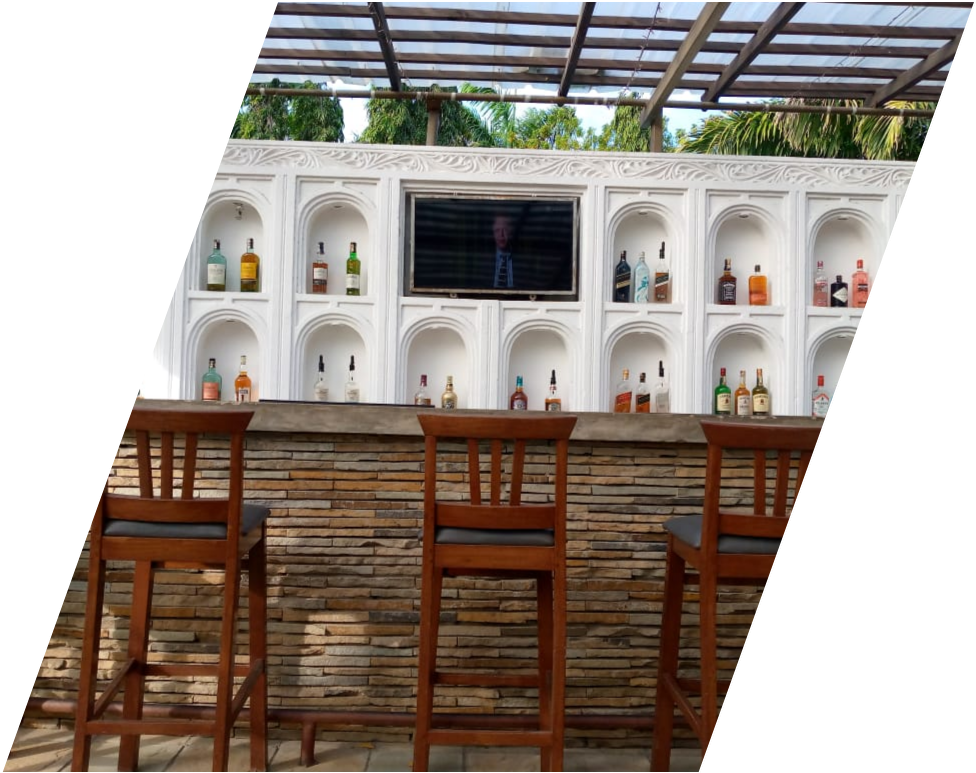 KENYAN CUISINE HAS A LOT TO OFFER: AN INTERVIEW WITH YVONNE MULA
By Lorna Likiza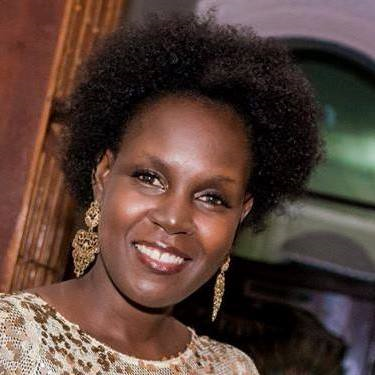 It's no secret that the Travel and Hospitality Industry has been the worst hit across the world in this Covid-19 pandemic. However, business owners have had to adapt in many different ways which has ended up revolutionizing how the industry operates. I met up with Mombasa based, Mikaye Restaurant owner, Yvonne Mula, who first ventured in the restaurant business at 31 and has been at it since, for an exclusive interview.
Lorna: Who is Yvonne Mula?
Yvonne: Yvonne Mula is an entrepreneur at heart, a foodie and a lover of the Arts, born and raised in Mombasa.
Lorna: What inspired you to go into the restaurant business?
Yvonne: Well, I lived in France for about 9 years. While there as a student, I started working in the Hospitality Industry just to make ends meet and in particular, restaurants. It was then that I developed a deep appreciation for the business. I was working for a group of French guys. They were young actually and not much older than I was and I thought to myself, if these guys can do this, why can't I? In terms of why can't I go back home and open a restaurant, starting small while gradually building it up?
So for a couple of years, I saved up some money and returned to Kenya eventually. Obviously I hadn't budgeted well enough and it took me another couple of years to start the business. I opened Mikaye Restaurant in 2008 and we have grown slowly but surely over the past 13 years.
Another thing I realized while living in France is that we do not appreciate Kenyan Cuisine enough so I purposed to serve Kenyan food in a nice setting and add value to it.
Lorna: There's a wide spread notion that Kenyan Cuisine is boring. What's your take on this?
Yvonne: The surprising thing is, just a simple kuku kienyeji (local chicken), boiled with a bit of onions and pepper has a flavor to itself. So it also depends on the ingredients you are using. When it's natural, its flavor just comes out and sometimes, you don't need to drown it. Even with githeri, it can be beans, it can be maize and it can be cooked simply and nicely and have so much flavor. I guess it additionally depends on your palate. And I strongly believe that the Kenyan Cuisine has a lot to offer. Just go for the flavors.
I would like to also take you back to our menu for a bit. Kenyan inspired, totally Kenyan inspired. I will take one product like Aliya. Aliya comes from Western. It's made by both the Luo and the Luhya communities. And this is sundried beef which is dried over time. Essentially, it was done that way to preserve the meat. When you want to cook it, first you boil it to soften it, add some moisture into it and then you fry it. Here at Mikaye, we fry it with ghee. Now ghee is traditionally, also Kenyan. Finally, you add just a bit of pepper. It has a flavor all to itself. Smoky flavor, really nice.
Let's have a look at Mataha (popularly known as Mukimo in other parts of Kenya, pronounced Mokimo). You cannot deny the flavor in that food. Let's take mboga kienyeji (traditional vegetables) common across Kenya but done differently per region. In the Coast, we'll do it with a bit of nazi (coconut). In Western, it's done with a bit of milk and you cook it over days. Every day you take that milk and there's a whole process in making that mboga (vegetable).
So I think, we have not yet come to appreciate essentially, how our grandparents and their grandparents used to cook. When you focus on people living in urban areas in Kenya, you notice that cooking is a quick process because of other life demands. But if you research on Kenyan food, you realize that Kenyan cooking is much more elaborate than we tend to think.
As a matter of fact, most of the food recipes in our menu, I was taught by my mom. This is how my grandma used to cook for her. You see, that's how you get the authentic flavor of Kenyan Cuisine. And we must also factor in the different influences including the Indian influence borrowed from the Kenyan-Indian community as well as the Coastal cuisine which is still Kenyan.
And I strongly believe that the Kenyan Cuisine has a lot to offer. Just go for the flavors.
Lorna: So how many years in total have you been in the Hospitality Industry?
Yvonne: As running Mikaye, 13 years plus an extra 9 years working in hospitality in France. 22 in total.
Lorna: Is this something you are professionally trained in?
Yvonne: Actually, I started with Art, then I went to Hospitality. I also did a bit of Literature when I was in France but I think, all this has to do with passion. I also find that every single thing I did has influenced this restaurant. For example in the décor, I actually do it myself. I have a passion for the Arts like I mentioned earlier and will go out of my way to look for photographs done by local artists and put them up. So it's something that I really do appreciate.
Lorna: Given the uncertainty of the Hospitality Industry which relies on seasons, a lot of people have misgivings about running businesses in this field. What lessons have you learned to stay afloat and especially during this pandemic?
Yvonne: For us, our clientele has been mostly local. So the fact that tourism had slumped, it didn't necessarily affect us as Mikaye, although most people's buying power has significantly reduced. Curfews have also reduced our working hours. So it has meant that we have had to diversify and offer different services and different products, in terms of doing more of outside catering, office deliveries and also tailoring our products to the situation.
Nowadays, we open earlier and close earlier while trying to bring in a breakfast and lunch crowd. For us, the diversification has really helped us keep afloat and we have also gone online. Initially, the pandemic made us close for a while in keeping with the government directive. When we returned, we decided to go towards open seating but ensure people were also comfortable.
So as you can see, I introduced plants to gently divide the seating and offer privacy per table. Then we also started to recycle. We have since settled on tomato crates and cut open, empty, cooking oil containers as pots for the plants. Moreover, we currently have a herb garden where we are growing ginger, lemongrass and all these herbs. So I am actually going out to look at all the things we need in our kitchen that can be grown in our garden.
It's a cost-cutting strategy that will be beneficial in the long run. Instead of buying these herbs at the market, we are growing them in-house.
Lorna: The name Mikaye, what's the meaning and how is it reflective of the African theme in your restaurant?
Yvonne: Mikaye is a Luo word which means an honorable woman or the first wife. I come from Luo Nyanza, a place called Seme and we have the Kit Mikaye stone which inspired me when I was looking for a name for my restaurant. Kit Mikaye means "the seat of the first wife." And this name Mikaye is all about food and how well it has been done, all about hospitality and all about how I welcome you into my home. You see, everything here is about making you feel at home. There's nothing that makes me so happy than seeing a satisfied and comfortable client.
This name Mikaye is all about food and how well it has been done, all about hospitality and all about how I welcome you into my home.
Lorna: Do you plan on having other branches of Mikaye within Mombasa and outside?
Yvonne: I think eventually, maybe Nairobi would be a good idea. I know in Nairobi they have many restaurants like Mikaye that specialize in Kenyan food. But at the same time, Mikaye has a touch of Coastal which makes it unique, so why not?
Lorna: What has been the biggest highlight so far in your career?
Yvonne: (Laughs) Every day is a highlight! Every day is a roller coaster. Wow, there are so many small things that make your day. Like how we started downstairs with only 5 bottles of alcoholic drinks in the bar. Then we opened the rooftop like 5 years ago. I think the small things make everything special.
Lorna: We have talked so much about Kenyan food already but I am curious, what's your favorite Kenyan dish?
Yvonne: Aliya with brown ugali and osuga (laughs).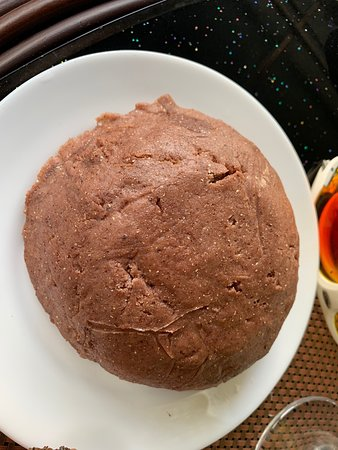 DEUTSCHE VERSION
Aus unserer Reihe über afrikanische Kochkunst besuchen wir heute das Restaurant Mikaye in Mombasa. Yvonne Mula wird im Interview ihre Philosophie der afrikanischen Küche erzählen.
Das Mikaye Restaurant ist ein afrikanisches Themenrestaurant in der Links Road, Nyali, in Mombasa. Es ist im Besitz von Yvonne Mula, einer leidenschaftlichen Kunstliebhaberin mit einer großen Vorliebe für kenianisches Essen. Ich besuchte das Mikaye Restaurant an einem Freitag, am späten Nachmittag, Anfang Juni.

Der Barbereich im Erdgeschoss heißt Sie willkommen. Holzregale, in denen eine Auswahl an Getränken arrangiert ist, werden von tief hängenden Ankara-Lampenschirmen ergänzt. Abends sind sie ein schöner Anblick, wenn die Lampen sie beleuchten. Der Bartresen ist lang und aus Holz, ebenso wie die Sitzgelegenheiten, die sich an einer Seite des Tresens befinden, ebenfalls aus Holz.
An einem Ende des Barbereichs befinden sich sofaartige Holzsitze mit weißen und gemütlichen Ankara-Kissen, die sich an große Bogenfenster schmiegen. Zwei weitere niedrig hängende Ankara-Lampenschirme und ein kleiner, hölzerner, quadratischer Tisch vervollständigen das Aussehen der Ecke. Das Mikaye Restaurant ist Kunst an sich mit afrikanisch inspirierten Schwarz-Weiß- und auch farbigen, glasgerahmten Fotografien, die die Wände im Erdgeschoss säubern.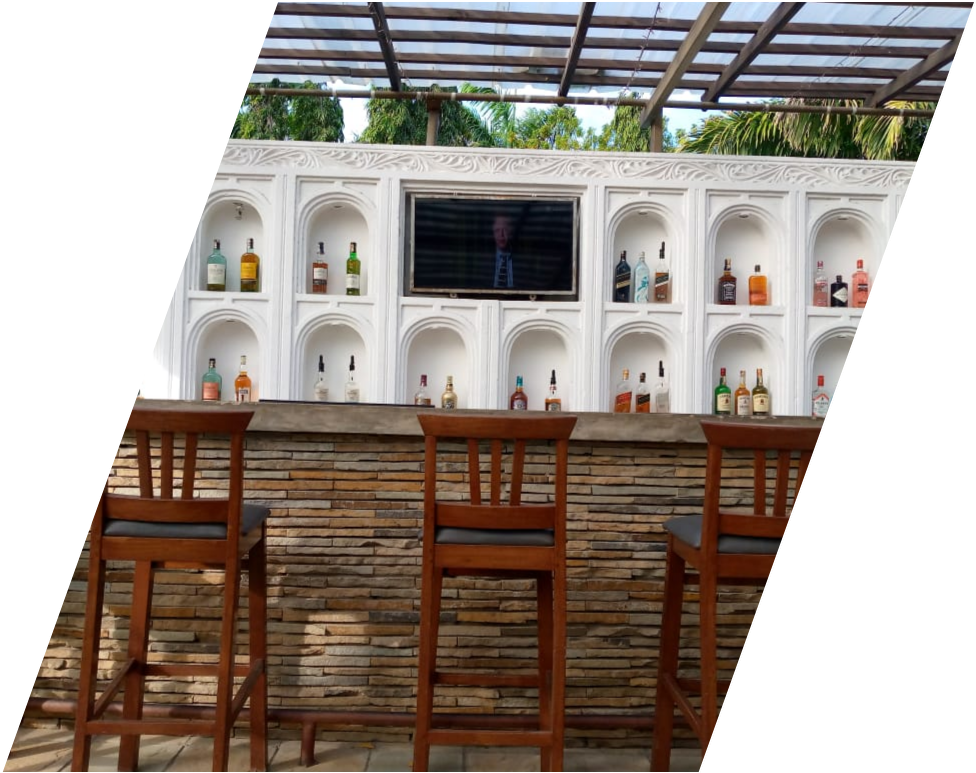 Und aufgrund der Covid-19-Situation ist der Innenraum gleich nach der Bar spärlich möbliert, ganz im Sinne der sozialen Distanzierung. Aber ein Regal, in dem unter anderem ein Set von Teetassen steht, ein goldener Kronleuchter und Ankara-Vorhänge an den Fenstern geben diesem Teil des Restaurants ein heimeliges Gefühl. Für unvorsichtige Kletterer ist die gewundene Treppe aus Eisenblech, die auf die Dachterrasse führt, vielleicht nicht die beste.
Sie führt jedoch zu einem Raum, der absichtlich nicht zu groß ist, um Intimität zu bieten, gut belüftet und mit Pflanzen gefüllt. In Recycling-Bemühungen halten Tomatenkisten und aufgeschnittene Speiseölbehälter den Großteil der Pflanzen, grün und voller Leben. Geschickt ist jeder Tisch durch Pflanzen getrennt. Typische Kerosinlampen, wie sie in vielen kenianischen Haushalten im ganzen Land zu finden sind, sorgen abends für Beleuchtung. Auch Swahili inspirierte Lampen sind vorhanden.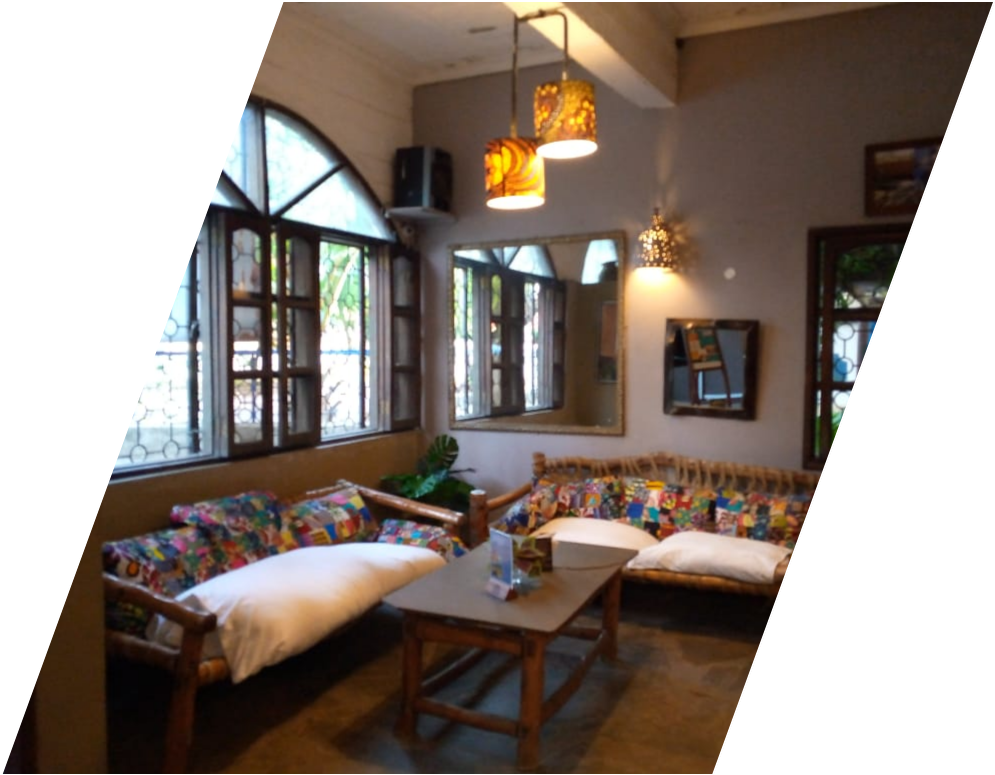 Die Tische und Stühle in diesem Raum sind meist aus Holz und eine rustikale Sitzgelegenheit mit weichen Kissen, für diejenigen, die mehr Komfort suchen. Der Barbereich im Obergeschoss ist interessant. Die Regale, in denen die Getränke für die späten Abende aufbewahrt werden, sind im Swahili-Stil gehalten und weiß gestrichen. In der Mitte ist ein TV-Bildschirm angebracht. Überhängende Pflanzentöpfe werden hochgehalten, einige durch Makramee, andere durch normalen, starken Faden.
Das Mikaye Restaurant verfügt auch über einen offenen Bereich auf dem Dach für Veranstaltungen. In meinem späteren Gespräch mit Yvonne erfahre ich, dass in diesem Raum regelmäßig Baby- und Brautpartys, Chamas (Karussell-Rettungsgruppen) und Frauen-Empowerment-Aktivitäten veranstaltet werden. Jedes Ende des Raums ist mit Pflanzen gesäumt und ein Ende ist mit einem kunstinspirierten Stoff abgeschirmt.

Die Speisekarte ist erschwinglich und für ein Glas Cocktailsaft, ¼ mariniertes, gebratenes Rindfleisch, weißes Ugali und Kachumbari habe ich 950Kshs ausgegeben. Der Cocktail und das Essen, muss ich hinzufügen, waren lecker und preiswert. Erwähnenswert ist das tolle Personal, das ständig nachfragt, ob man sich wohlfühlt oder nicht. Ich würde das Restaurant für ein romantisches Date, ein Geschäftstreffen, ein Treffen mit Freunden oder einfach nur zum Genießen von Drinks allein empfehlen.
Bewertung: 4/5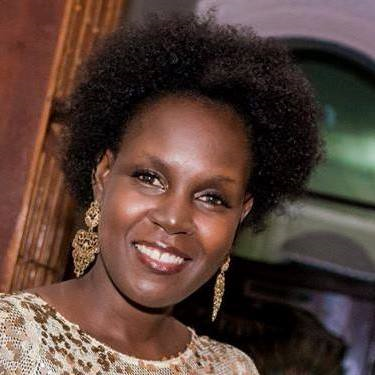 Die Kenianische Küche hat viel zu bieten: Interview mit Yvonne Mula
Von Lorna Likiza
Es ist kein Geheimnis, dass das Reise- und Gastgewerbe weltweit am stärksten von der Covid-19-Pandemie betroffen ist. Dennoch mussten sich die Geschäftsinhaber auf viele verschiedene Arten anpassen, was letztendlich die Arbeitsweise der Branche revolutioniert hat. Ich traf mich mit Yvonne Mula, der Besitzerin des Mikaye-Restaurants in Mombasa, die mit 31 Jahren zum ersten Mal in das Restaurantgeschäft einstieg und seitdem dabei ist, für ein exklusives Interview.
Lorna: Wer ist Yvonne Mula?
Yvonne: Yvonne Mula ist eine Unternehmerin im Herzen, ein Foodie und ein Liebhaber der Kunst, geboren und aufgewachsen in Mombasa.
Lorna: Was hat Sie dazu inspiriert, ins Restaurantgeschäft einzusteigen?
Yvonne: Nun, ich habe etwa neun Jahre in Frankreich gelebt. Während ich dort studierte, begann ich im Gastgewerbe zu arbeiten, um über die Runden zu kommen, insbesondere in Restaurants. Damals entwickelte ich eine tiefe Wertschätzung für dieses Geschäft. Ich arbeitete für eine Gruppe von französischen Jungs. Sie waren jung und nicht viel älter als ich, und ich dachte mir: Wenn diese Jungs das können, warum nicht auch ich? Warum kann ich nicht zurück nach Hause gehen und ein Restaurant eröffnen, klein anfangen und es nach und nach ausbauen?
Also habe ich ein paar Jahre lang etwas Geld gespart und bin schließlich nach Kenia zurückgekehrt. Offensichtlich hatte ich nicht gut genug kalkuliert und es dauerte noch ein paar Jahre, bis ich das Geschäft eröffnen konnte. Ich eröffnete das Mikaye Restaurant im Jahr 2008 und wir sind in den letzten 13 Jahren langsam aber sicher gewachsen.
Eine weitere Sache, die mir klar wurde, als ich in Frankreich lebte, ist, dass wir die kenianische Küche nicht genug schätzen, also habe ich mir vorgenommen, kenianisches Essen in einem schönen Rahmen zu servieren und es aufzuwerten.

Lorna: Es gibt die weit verbreitete Meinung, dass die kenianische Küche langweilig ist. Was ist Ihre Meinung dazu?
Yvonne: Das Erstaunliche ist, dass schon ein einfaches Kuku Kienyeji (einheimisches Huhn), gekocht mit ein wenig Zwiebeln und Pfeffer, einen ganz eigenen Geschmack hat. Es kommt also auch auf die Zutaten an, die man verwendet. Wenn es natürlich ist, kommt der Geschmack einfach heraus und manchmal braucht man es nicht zu ertränken. Selbst bei Githeri können es Bohnen sein, es kann Mais sein und es kann einfach und schön gekocht werden und so viel Geschmack haben. Ich denke, es hängt zusätzlich von Ihrem Gaumen ab. Und ich glaube fest daran, dass die kenianische Küche sehr viel zu bieten hat. Lassen Sie sich einfach auf die Geschmacksrichtungen ein.
Ich möchte Sie auch noch einmal kurz zu unserer Speisekarte führen. Kenianisch inspiriert, total kenianisch inspiriert. Ich werde ein Produkt wie Aliya nehmen. Aliya kommt aus dem Westen. Es wird sowohl von den Luo als auch von den Luhya Gemeinden hergestellt. Und das ist sonnengetrocknetes Rindfleisch, das mit der Zeit getrocknet wird. Im Wesentlichen wurde es so gemacht, um das Fleisch zu konservieren. Wenn man es kochen will, kocht man es zuerst, um es weicher zu machen, fügt ihm etwas Feuchtigkeit hinzu und brät es dann. Hier in Mikaye braten wir es mit Ghee. Ghee ist traditionell, auch kenianisch. Zum Schluss gibt man noch ein bisschen Pfeffer dazu. Es hat einen ganz eigenen Geschmack. Ein rauchiges Aroma, wirklich schön.
Werfen wir einen Blick auf Mataha (in anderen Teilen Kenias auch als Mukimo bekannt, ausgesprochen Mokimo). Sie können den Geschmack in diesem Essen nicht leugnen. Nehmen wir mboga kienyeji (traditionelles Gemüse), das in ganz Kenia verbreitet ist, aber in jeder Region anders zubereitet wird. An der Küste machen wir es mit ein bisschen Nazi (Kokosnuss). Im Westen wird es mit etwas Milch zubereitet und man kocht es über Tage. Jeden Tag nimmt man diese Milch und es gibt einen ganzen Prozess, um dieses mboga (Gemüse) herzustellen.
Ich glaube, wir wissen noch nicht zu schätzen, wie unsere Großeltern und deren Großeltern gekocht haben. Wenn man sich auf Menschen konzentriert, die in städtischen Gebieten in Kenia leben, stellt man fest, dass das Kochen aufgrund anderer Lebensanforderungen ein schneller Prozess ist. Aber wenn man über kenianisches Essen recherchiert, stellt man fest, dass die kenianische Küche viel aufwändiger ist, als wir zu denken pflegen.In der Tat habe ich die meisten Rezepte auf unserer Speisekarte von meiner Mutter gelernt. So hat meine Oma immer für sie gekocht. Sie sehen, so bekommt man den authentischen Geschmack der kenianischen Küche. Und wir müssen auch die verschiedenen Einflüsse berücksichtigen, einschließlich des indischen Einflusses, der von der kenianisch-indischen Gemeinschaft übernommen wurde, sowie die Küstenküche, die immer noch kenianisch ist.
Und ich glaube fest daran, dass die kenianische Küche viel zu bieten hat. Man muss sich nur auf die Geschmacksrichtungen einlassen.
Lorna: Wie viele Jahre sind Sie insgesamt in der Hotelbranche tätig?
Yvonne: Als leitende Mikaye, 13 Jahre plus weitere 9 Jahre Arbeit im Gastgewerbe in Frankreich. Insgesamt 22.
Lorna: Ist das etwas, in dem Sie professionell ausgebildet sind?
Yvonne: Eigentlich habe ich mit Kunst angefangen, dann bin ich zum Gastgewerbe übergegangen. Ich habe auch ein bisschen Literatur studiert, als ich in Frankreich war, aber ich denke, das hat alles mit Leidenschaft zu tun. Ich finde auch, dass jede einzelne Sache, die ich gemacht habe, dieses Restaurant beeinflusst hat. Zum Beispiel bei der Dekoration, die mache ich tatsächlich selbst. Ich habe eine Leidenschaft für die Kunst, wie ich bereits erwähnt habe, und ich werde mir die Mühe machen, nach Fotografien von lokalen Künstlern zu suchen und sie aufzuhängen. Das ist also etwas, das ich wirklich zu schätzen weiß.
Lorna: Angesichts der Ungewissheit des Gastgewerbes, das auf Jahreszeiten angewiesen ist, haben viele Menschen Bedenken, ein Unternehmen in diesem Bereich zu führen. Welche Lektionen haben Sie gelernt, um sich über Wasser zu halten, insbesondere während dieser Pandemie?
Yvonne: Für uns war unsere Kundschaft hauptsächlich einheimisch. Die Tatsache, dass der Tourismus eingebrochen ist, hat uns als Mikaye also nicht unbedingt betroffen, obwohl die Kaufkraft der meisten Menschen deutlich zurückgegangen ist. Die Ausgangssperren haben auch unsere Arbeitszeiten reduziert. Das bedeutete, dass wir diversifizieren und andere Dienstleistungen und Produkte anbieten mussten, indem wir mehr Außengastronomie und Bürolieferungen machten und auch unsere Produkte an die Situation anpassten.

Heutzutage öffnen wir früher und schließen früher, während wir versuchen, ein Frühstücks- und Mittagspublikum anzulocken. Für uns hat die Diversifizierung wirklich geholfen, uns über Wasser zu halten, und wir sind auch online gegangen. Ursprünglich mussten wir wegen der Pandemie eine Zeit lang schließen, um den Anweisungen der Regierung zu folgen. Als wir zurückkamen, entschieden wir uns für die offene Bestuhlung, aber auch dafür, dass die Leute sich wohlfühlen.Wie Sie sehen können, habe ich also Pflanzen eingeführt, um die Sitzplätze sanft zu unterteilen und Privatsphäre pro Tisch zu bieten. Dann haben wir auch angefangen, zu recyceln. Inzwischen haben wir uns für Tomatenkisten und aufgeschnittene, leere Speiseölbehälter als Töpfe für die Pflanzen entschieden. Außerdem haben wir derzeit einen Kräutergarten, in dem wir Ingwer, Zitronengras und all diese Kräuter anbauen. Ich gehe also tatsächlich raus und schaue mir an, was wir alles in unserer Küche brauchen, was in unserem Garten angebaut werden kann.
Das ist eine Strategie zur Kostensenkung, die sich auf lange Sicht auszahlen wird. Anstatt diese Kräuter auf dem Markt zu kaufen, bauen wir sie selbst an.
Lorna: Der Name Mikaye, was bedeutet er und wie spiegelt er das afrikanische Thema in Ihrem Restaurant wider?
Yvonne: Mikaye ist ein Luo-Wort, das eine ehrbare Frau oder die erste Ehefrau bedeutet. Ich komme aus Luo Nyanza, einem Ort namens Seme und wir haben den Kit Mikaye Stein, der mich inspirierte, als ich nach einem Namen für mein Restaurant suchte. Kit Mikaye bedeutet "der Sitz der ersten Frau". Und dieser Name Mikaye ist alles über das Essen und wie gut es zubereitet wurde, alles über Gastfreundschaft und alles darüber, wie ich Sie in meinem Haus willkommen heiße. Sie sehen, alles hier dreht sich darum, dass Sie sich wie zu Hause fühlen. Es gibt nichts, was mich so glücklich macht, als einen zufriedenen und komfortablen Kunden zu sehen.
Bei diesem Namen Mikaye dreht sich alles um das Essen und wie gut es zubereitet wurde, alles um Gastfreundschaft und alles darum, wie ich Sie in meinem Haus willkommen heiße.
Lorna: Planen Sie, weitere Mikaye-Filialen innerhalb und außerhalb von Mombasa zu eröffnen?
Yvonne: Ich denke, irgendwann, vielleicht in Nairobi, wäre das eine gute Idee. Ich weiß, dass es in Nairobi viele Restaurants wie das Mikaye gibt, die sich auf kenianisches Essen spezialisiert haben. Aber gleichzeitig hat das Mikaye einen Hauch von Küste, was es einzigartig macht, also warum nicht?
Lorna: Was war bisher das größte Highlight in Ihrer Karriere?
Yvonne: (Lacht) Jeder Tag ist ein Highlight! Jeder Tag ist eine Achterbahnfahrt. Wow, es gibt so viele kleine Dinge, die deinen Tag ausmachen. Wie zum Beispiel, dass wir unten mit nur 5 Flaschen alkoholischen Getränken in der Bar angefangen haben. Dann haben wir vor etwa 5 Jahren das Rooftop eröffnet. Ich denke, die kleinen Dinge machen alles zu etwas Besonderem.
Lorna: Wir haben schon so viel über kenianisches Essen gesprochen, aber ich bin neugierig, was ist Ihr kenianisches Lieblingsgericht?
Yvonne: Aliya mit braunem Ugali und Osuga (lacht).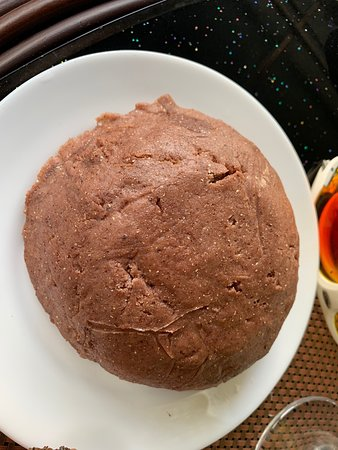 Copyright: cultureafrica2021/Lorna Likiza