Tsitsi Dangarembga – Friedenspreis 2021_Portrait from shonatiger (Zimbabwe)
Tsitsi Dangarembga is a Zimbabwean author, playwright and filmmaker. She is to receive the 2021 Friedenspreis des Deutschen Buchhandels, the peace prize awarded by Börsenverein des Deutschen Buchhandels, a German association of book publishers and booksellers.
FÜR DIE DEUTSCHE VERSION BITTE NACH UNTEN SCROLLEN
I came fairly late to Ms Dangarembga's writing. I had known of her, of course; she is famous even in her own country. My access to her writing was limited by the fact that her world-famous (and for a long while, only) book, Nervous Conditions, was never in the libraries of the schools I attended, and I did not know to look for it in the Public Library in Bulawayo, where I spent many, many hours. When I was old enough to buy my own books, mainly from street sellers and flea market stalls in Harare, I came to realise that it was very difficult to get hold of books by local authors, due to some complicated combination of the decisions made by the publishing industry here, and the laws of the country (which make publishing costly).
All of which to say, I first read Nervous Conditions divinely late, 30 years after it was published, in 2018. This was, however, not my first exposure to Ms Dangarembga, who has always been a fixture in literary and film circles, is a much-honoured Zimbabwean legend, and, more recently, a very visible activist for the people of Zimbabwe. I also had a chance to watch a fun and relatively informal interview with her at a virtual book festival, Afrolit Sans Frontieres, held in 2020, at the (first) peak of the coronavirus pandemic.
Books
Books
Nervous Conditions, published in 1988, was Ms Dangarembga's only published novel for 18 years, but is now part of a trilogy, including The Book of Not (2006), and This Mournable Body (2018). Ms Dangarembga has spoken openly about her struggles in publishing and in filmmaking, as a black woman. Nervous Conditions was written in 1985, but was rejected by four Zimbabwean publishers, eventually finding a home with the Women's Press in London. It was the first novel written (or, perhaps, published) by a Zimbabwean woman, and it received much acclaim, leading to Ms Dangarembga being awarded the Commonwealth Writers' Prize in 1989. The book has remained on many best books lists since, and is considered a classic. It was included on BBC's 2018 list of top books that have shaped the world (which is amazing!).
Nervous Conditions tells the story of Tambu, who moves from her rural home to a mission boarding school, in 1960s Zimbabwe. It is a bildungsroman, and is also the story of her mindset changing as she is exposed to colonial values. It covers patriarchy and feminism, mental health, African traditions as contrasted to Christianity, and Zimbabwe's war.
The Book of Not, the sequel, continues Tambu's story as she deals with the aftermath of war, and her adjustment as one of the few black pupils at her mostly white secondary school. This book is mainly about Tambu's thoughts and interiority as she goes through these things, unlike Nervous Conditions.
In This Mournable Body, the Booker Prize shortlisted and final book of the trilogy, Tambu is a young adult living in Harare, and dealing with financial struggles due to the situation in her country. Her story parallels the changes that were happening in Zimbabwe at the time.
Film
Ms Dangarembga also wrote the story for one of the best Zimbabwean films ever made, Neria (1991). I may have cried when I first watched it; it is simply brilliant, and deserves every accolade. The film is about a woman whose husband dies, and her subsequent struggles to keep her marital property (traditionally to be taken by the man's relatives), and to maintain her independence and keep her children (traditionally, her husband's brother's task is to look after his deceased brother's children — and, again traditionally, he may 'inherit' the wife as well). Ms Dangarembga followed this movie up with Everyone's Child (1996), another film, a hard-hitting commentary on Zimbabwean life.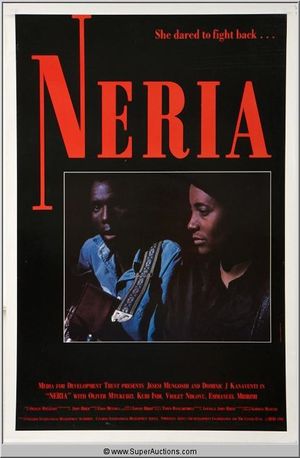 Activism
In July of 2020, there were calls online (including on Twitter) for Zimbabweans to demonstrate against alleged government corruption. Because this was during the pandemic, amid a lockdown, demonstrators were encouraged not to gather, but to post pictures online of themselves with placards, among other things. Ms Dangarembga was very outspoken during that month on Twitter, encouraging us all to speak out, as is our right. She followed this up with a solo, physical demonstration (she went out on the street with her placard) in Harare on 31 July 2020, the date that had been suggested for the demonstration. She was promptly arrested for breaking the law.
"Every sector is disintegrating. Health, education, the economy. I am concerned for my safety. It would be naïve not to be because we have a very repressive regime and we know that they will most likely be deployed against the people."
Tsitsi Dangarembga, speaking to the BBC.
More about her arrest on DW here.
I was amazed and encouraged that a fellow woman would stand up to our government with so much courage. We knew that demonstrators were likely to be arrested (thus, the decision by "organisers" to demonstrate online). It was truly encouraging that Ms Dangarenbga took such a principled and public stand, risking her welfare for every citizen's cause. There is a wonderful interview here, on Al Jazeera, where she explains her reasons.
Ms Dangarembga continues to use her public platform, and Twitter, to speak up on Zimbabwean human rights issues, and issues affecting women.
Acclaim
Among other accolades, Ms Dangarembga has received the following:
The Commonwealth Writers' Prize, Africa region, 1989
Short Film Award and Golden Dhow at the Zanzibar International Film Festival, 2005
UNESCO Children's and Human Rights Award, 2006
Zanzibar International Film Festival winner, 2006
Rockefeller Foundation Bellagio Center Artist in Residency, 2016
Finalist for the St. Francis College Literary Prize, 2019
Booker Prize shortlist, 2020
2021 PEN International Award for Freedom of Expression
The Friedenspreis des Deutschen Buchhandels is the latest award. Congratulations to one of my personal literary heroes! I am so glad for her that she's also being recognised for her heroism in standing up for the rights of Zimbabweans, in addition to her well-deserved literary acclaim.
The full speech, Tsitsi will give in Paulskirche Frankfurt on 24th of october is reproduced here as soon as possible.
---
shonatiger is a blogger currently based in Harare, Zimbabwe. Her latest blog is at shonareads.wordpress.com, where she blogs about the books she reads. She can also be found on Twitter at @shonatiger, and on "Bookstagram" at shonareads_
DEUTSCHE VERSION
Tsitsi Dangarembga ist eine simbabwische Autorin, Dramatikerin und Filmemacherin. Sie erhält den Friedenspreis des Deutschen Buchhandels 2021, der vom Börsenverein des Deutschen Buchhandels am 24.10.21 im Rahmen der Frankfurter Buchmesse verliehen wird.
Ich bin erst relativ spät auf Frau Dangarembgas Werk aufmerksam geworden. Ich kannte sie natürlich; sie ist sogar in ihrem eigenen Land, Simbabwe, berühmt. Mein Zugang zu ihrem Werk war dadurch beschränkt, dass ihr weltberühmtes (und lange Zeit einziges) Buch "Nervous Conditions" nie in den Bibliotheken der Schulen, die ich besuchte, zu finden war, und ich wusste nicht, dass ich in der öffentlichen Bibliothek in Bulawayo, wo ich viele, viele Stunden verbrachte, danach suchen musste. Als ich alt genug war, um meine eigenen Bücher zu kaufen, hauptsächlich von Straßenverkäufern und Flohmarktständen in Harare, wurde mir klar, dass es sehr schwierig war, an Bücher einheimischer Autoren heranzukommen, was an einer komplizierten Kombination aus den Entscheidungen der hiesigen Verlagsbranche und den Gesetzen des Landes lag (die das Verlegen teuer machen) lag.
Deshalb habe ich "Nervous Conditions" erst wahnsinnig spät, 30 Jahre nach seinem Erscheinen, im Jahr 2018 gelesen. Dies war jedoch nicht meine erste Begegnung mit Frau Dangarembga, die in Literatur- und Filmkreisen schon immer eine feste Größe war, eine hoch verehrte simbabwische Legende ist und in jüngster Zeit eine sehr sichtbare Aktivistin für die Menschen in Simbabwe ist. Ich hatte auch die Gelegenheit, ein unterhaltsames und relativ informelles Interview mit ihr auf einem virtuellen Buchfestival, Afrolit Sans Frontieres, zu sehen, das 2020 auf dem (ersten) Höhepunkt der Coronavirus-Pandemie stattfand.
Bücher
"Nervous Conditions", 1988 veröffentlicht, war 18 Jahre lang Frau Dangarembgas einziger veröffentlichter Roman, ist aber nun Teil einer Trilogie, zu der auch The Book of Not (2006) und "Nervous Conditions" (2018) gehören. Frau Dangarembga hat offen über ihre Kämpfe als schwarze Frau im Verlagswesen und beim Filmemachen gesprochen. Nervous Conditions wurde 1985 geschrieben, aber von vier simbabwischen Verlagen abgelehnt, bis es schließlich bei der Women's Press in London erschien. Es war der erste Roman, der von einer simbabwischen Frau geschrieben (oder vielleicht auch veröffentlicht) wurde, und er erhielt viel Beifall, was dazu führte, dass Frau Dangarembga 1989 mit dem Commonwealth Writers' Prize ausgezeichnet wurde. Das Buch steht seither auf vielen Bestenlisten und gilt als Klassiker. Es wurde von der BBC in die Liste der besten Bücher, die die Welt geprägt haben, für 2018 aufgenommen (was erstaunlich ist!).
Nervous Conditions/Aufbrechen erzählt die Geschichte von Tambu, die in den 1960er Jahren von ihrem ländlichen Zuhause in ein Missionsinternat in Simbabwe zieht. Es ist ein Bildungsroman und zugleich die Geschichte einer veränderten Denkweise, während sie den kolonialen Werten ausgesetzt ist. Es geht um Patriarchat und Feminismus, psychische Gesundheit, afrikanische Traditionen im Gegensatz zum Christentum und den Krieg in Simbabwe.
The Book of Not, die Fortsetzung, setzt Tambus Geschichte fort, in der sie sich mit den Folgen des Krieges auseinandersetzt und wie sie sich als eine der wenigen schwarzen Schüler an ihrer überwiegend weißen Sekundarschule zurechtfindet. Im Gegensatz zu Nervous Conditions geht es in diesem Buch hauptsächlich um Tambus Gedanken und ihr Inneres, während sie diese Dinge durchlebt.
In This Mournable Body, dem für den Booker Prize nominierten und letzten Buch der Trilogie, ist Tambu eine junge Erwachsene, die in Harare lebt und aufgrund der Situation in ihrem Land mit finanziellen Schwierigkeiten zu kämpfen hat. Ihre Geschichte ist eine Parallele zu den Veränderungen, die zu dieser Zeit in Simbabwe stattfanden.
Film
Frau Dangarembga schrieb auch die Geschichte für einen der besten simbabwischen Filme, die je gedreht wurden: Neria (1991). Ich habe vielleicht geweint, als ich ihn zum ersten Mal sah; er ist einfach brillant und verdient jede Auszeichnung. Der Film handelt von einer Frau, deren Ehemann stirbt, und ihrem anschließenden Kampf um den Erhalt ihres ehelichen Besitzes (der traditionell den Verwandten des Mannes zufällt), um ihre Unabhängigkeit und um ihre Kinder (traditionell ist es die Aufgabe des Bruders ihres Mannes, sich um die Kinder seines verstorbenen Bruders zu kümmern – und, ebenfalls traditionell, kann er auch die Frau "erben"). Diesem Film ließ Frau Dangarembga den Film Everyone's Child (1996) folgen, einen weiteren Film, der das Leben in Simbabwe auf harte Weise kommentiert.
Aktivismus
Im Juli 2020 gab es im Internet (auch auf Twitter) Aufrufe an die Simbabwer, gegen die angebliche Korruption der Regierung zu demonstrieren. Da dies während der Pandemie und inmitten einer Abriegelung geschah, wurden die Demonstranten aufgefordert, sich nicht zu versammeln, sondern Bilder von sich selbst mit Plakaten online zu stellen, unter anderem. Frau Dangarembga hat sich in diesem Monat auf Twitter sehr deutlich geäußert und uns alle ermutigt, unsere Stimme zu erheben, wie es unser Recht ist. Daraufhin demonstrierte sie am 31. Juli 2020, dem für die Demonstration vorgeschlagenen Datum, in Harare allein (sie ging mit ihrem Plakat auf die Straße). Prompt wurde sie wegen Verstoßes gegen das Gesetz verhaftet.
"Jeder Sektor zerfällt. Gesundheit, Bildung, Wirtschaft. Ich mache mir Sorgen um meine Sicherheit. Es wäre naiv, das nicht zu tun, denn wir haben ein sehr repressives Regime und wir wissen, dass es höchstwahrscheinlich gegen die Bevölkerung eingesetzt wird."

Tsitsi Dangarembga, im Gespräch mit der BBC.
Mehr über ihre Verhaftung auf diesem Link  DW here.
Ich war erstaunt und ermutigt, dass eine Frau unserer Regierung mit so viel Mut die Stirn bietet. Wir wussten, dass Demonstranten wahrscheinlich verhaftet werden würden (daher die Entscheidung der "Organisatoren", online zu demonstrieren). Es war wirklich ermutigend, dass Frau Dangarenbga einen so prinzipienfesten und öffentlichen Standpunkt einnahm und ihr Wohlergehen für die Sache aller Bürger riskierte. Hier gibt es ein wunderbares Interview auf Al Jazeera, in dem sie ihre Gründe erläutert: here, on Al Jazeera,
Frau Dangarembga nutzt weiterhin ihre öffentliche Plattform und Twitter, um sich zu Menschenrechtsfragen in Simbabwe und zu Fragen, die Frauen betreffen, zu äußern.
Auszeichnungen
Neben anderen Auszeichnungen hat Frau Dangarembga folgende Preise erhalten:
– den Commonwealth Writers' Prize, Region Afrika, 1989
– Kurzfilmpreis und Golden Dhow auf dem Internationalen Filmfestival von Sansibar, 2005
– UNESCO-Preis für Kinder und Menschenrechte, 2006
-Gewinner des Internationalen Filmfestivals von Sansibar, 2006
-Rockefeller Foundation Bellagio Center Artist in Residency, 2016
-Finalistin für den St. Francis College Literary Prize, 2019
-Booker Prize Shortlist, 2020
-BBC's 100 Frauen, 2020
-2021 PEN International Award für Meinungsfreiheit
Der Friedenspreis des Deutschen Buchhandels ist die jüngste Auszeichnung. Herzlichen Glückwunsch an eine meiner persönlichen literarischen Heldinnen! Ich freue mich so sehr für sie, dass sie neben ihrer wohlverdienten literarischen Anerkennung auch für ihr heldenhaftes Eintreten für die Rechte der Menschen in Simbabwe gewürdigt wird.
Die Rede, die sie zur Verleihung halten wird, soll so bald wie möglich hier veröffentlicht werden. Cultureafrica ist vor Ort und berichtet.
copyright 2021/cultureafrica.net