Travelling While Black – Nanjala Nyabola's Book as an Insta Live Discussion engl/ger
ABIGAIL ARUNGA REVIEWS TRAVELLING WHILE BLACK BY NANJALA NYABOLA ON IG LIVE
Abigail Arunga is a freelance writer, she has self-published two poetry collections (Akello and A Side of Raunch), is a regular columnist in Kenya's Daily Nation, co-hosts a Youtube talk-show with Onyango Ayany – Y DoWeDoIt – and manages Rugano Bookstore together with Magunga Williams. And she is the vibrant mind behind https://akello.co.ke, her personal blog.

by Lorna Likiza
Abigail Arunga's IG Live took place on Wednesday, 21st April from 8pm EAT. Dressed comfortably in a dhera, the Nation. Africa Columnist and published Poet sat down to discuss the Travel Inspired Nonfiction Book, Travelling While Black: Essays Inspired By A Life On The Move by Nanjala Nyabola.
Who is Nanjala Nyabola?
A Kenyan, Nyabola describes herself on her website www.nanjalawrites.com as a Writer, Humanitarian, Advocate and Political Analyst. And as a result of her passions and professional life, Nyabola has travelled widely in the process. Impressively, she has visited over 70 countries in 4 continents and being a black, female traveler, has of course amassed enough insights coupled with personal experiences to decide to publish a book on the same.
The IG Live kicked off with Arunga detailing what she liked most about the book and reading a few excerpts from it. Travelling While Black tackles a number of relevant societal, ethnical and racial issues. In one of the chapters, The African Is Not At Home, the subject of Somalis and the othering they have faced in Kenya when they were made to feel as if they did not belong is raised.
Indeed, the title of the chapter is something worth talking about because certain occurrences that keep happening across Africa on and off often bring to the fore the fact that Africans are not truly united. While discussing this particular chapter and why it appealed to her, Arunga inspired the viewers to engage in commentary regarding the difficulty in getting a Visa as an African wishing to visit South Africa. Xenophobia which flares up every now and then in the said country has seen many Africans decide otherwise about living and working in South Africa.
However, while speaking about this country, we must factor in the unnecessarily lengthy apartheid period they endured as a people and the many scars that are yet to heal. At the same time, it's worth noting that were it not for colonization, then Africa would not have been facing some of the problems which are since associated with us. A collective agreement to solve the issue regarding the disunity among Africans was a need to thoroughly decolonize which indeed, is much harder than often thought.
As the discourse carried on, on the IG Live, it was noted how easy it is for white travelers to get Visas to visit Africa and a typically arduous task for an African to get one to visit many places overseas. This eventually led to Arunga mentioning yet another chapter in Nyabola's book that she had particularly liked; Periodic Offerings To The Visa gods.
It was refreshing for me to learn that up until 1997, a Kenyan travelling to the UK did not require a Visa by virtue of coming from a Commonwealth country. This however changed and in came what is often described as a dehumanizing process by those who have unfortunately had to go through it that is the visa application process to visit the UK.
In his frustration at being denied a Visa to visit the said country, popular Kenyan Blogger and Writer, Jackson Biko, fondly and widely known as Bikozulu, once penned an entire blog post on his experience. His essay received so much attention from Kenyans and people who could relate that the UK Ambassador to Kenya had to personally respond to Biko. In the end, it turned out positive for him.
But as an African or Black person, is it really necessarily to constantly be subjected to this kind of treatment just to travel overseas? The fact that there are so many Visa restrictions for black and brown people, is suspect. Having to pay 16,000KES (approximately $148) as a Kenyan for the Visa application process in order to visit the US and then being denied the Visa eventually was another issue that was raised. So much have many Kenyans been denied the US Visa that a lot of people have a story of someone they personally know who got denied once, twice, thrice at times, until they gave up.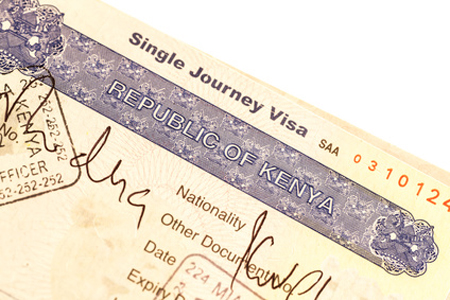 Germany, it was proposed, is gentler in the Visa application process for Africans when compared to a country like Greece. Being considered as a likely entry point for illegal immigrants into the rest of Europe, Greece it was noted, has way stricter restrictions. Whether indeed justified or not, remains a subject for debate.
And not only does Nanjala's book dwell on travel issues affecting Black people. She also talks about segregation in Kenya and how hard it was once for her trying to rent in Parklands, a residential area in Nairobi that is a preferred choice for the Indian-Kenyan community. This in particular resonated with my personal experience growing up in a residential area that was predominantly, Asian.
To add salt to injury, the discussion of the termini for African travelers being on the furthest end in airports and the stark difference in business classes in airplanes flying to Africa when compared to those whose destinations are overseas was equally raised on this IG Live. The last chapter in Nyabola's book which Arunga pointed out is titled Small Acts Of Resistance. The chapter actually challenges the reader to consider what they can do in their own small capacities to solve some issues such as pollution and exploitation among others.
As a viewer who is yet to read Travelling While Black, I left the IG Live educated to some extent and also appreciative that these kinds of issues affecting races stubbornly considered inferior are increasingly being tackled boldly. I plan on getting my own copy soon. You can also get yours from Rugano Bookstore retailing at 2,500 KES. They do not ship outside East Africa but you can be that good friend and get an extra copy to gift someone who is not within this region.
See the whole on insta live here:
https://www.instagram.com/tv/CN7-xgMj_Ee/
And tune in here:
Lorna Likiza for cultureafrica.net 2021
Deutsche Version
ABIGAIL ARUNGA REZENSIERT TRAVELLING WHILE BLACK VON NANJALA NYABOLA AUF IG LIVE
Abigail Arunga ist freie Autorin, hat zwei Gedichtbände (Akello und A Side of Raunch) im Selbstverlag veröffentlicht, ist regelmäßige Kolumnistin in Kenias Daily Nation, moderiert zusammen mit Onyango Ayany eine Youtube-Talkshow – Y DoWeDoIt – und leitet zusammen mit Magunga Williams den Rugano Bookstore. Und sie ist der lebendige Kopf hinter akello.co.ke, ihrem persönlichen Blog.
von Lorna Likiza
Abigail Arunga's IG Live fand am Mittwoch, den 21. April ab 20 Uhr EAT statt. Bequem in eine Dhera gekleidet, setzte sich die Nation.Africa-Kolumnistin und veröffentlichte Dichterin hin, um über das vom Reisen inspirierte Sachbuch Travelling While Black: Essays inspiriert von einem Leben auf Reisen von Nanjala Nyabola.
Wer ist Nanjala Nyabola?
Die Kenianerin Nyabola beschreibt sich auf ihrer Website www.nanjalawrites.com als Schriftstellerin, humanitäre Helferin, Anwältin und politische Analystin. Infolge ihrer Leidenschaften und ihres Berufslebens ist Nyabola weit gereist. Beeindruckend ist, dass sie über 70 Länder auf 4 Kontinenten besucht hat und als schwarze, weibliche Reisende natürlich genug Erkenntnisse gepaart mit persönlichen Erfahrungen gesammelt hat, um sich zu entschließen, ein Buch darüber zu veröffentlichen.
Die IG Live begann damit, dass Arunga erzählte, was ihr an dem Buch am besten gefallen hat und einige Auszüge daraus vorlas. Travelling While Black behandelt eine Reihe relevanter gesellschaftlicher, ethnischer und rassischer Themen. In einem der Kapitel, The African Is Not At Home, geht es um Somalier und die Ausgrenzung, mit der sie in Kenia konfrontiert waren, als ihnen das Gefühl gegeben wurde, nicht dazuzugehören.
Der Titel des Kapitels ist in der Tat etwas, worüber es sich zu sprechen lohnt, denn bestimmte Vorkommnisse, die in ganz Afrika immer wieder passieren, machen deutlich, dass die Afrikaner nicht wirklich vereint sind. Während der Diskussion über dieses spezielle Kapitel und warum es sie ansprach, regte Arunga die Zuschauer zu Kommentaren über die Schwierigkeit an, als Afrikaner ein Visum zu bekommen, wenn man Südafrika besuchen möchte. Die Fremdenfeindlichkeit, die in dem besagten Land immer wieder aufflammt, hat viele Afrikaner dazu gebracht, sich anders zu entscheiden, als in Südafrika zu leben und zu arbeiten.
Wenn wir über dieses Land sprechen, müssen wir jedoch die unnötig lange Zeit der Apartheid berücksichtigen, die sie als Volk ertragen mussten und die vielen Narben, die noch nicht verheilt sind. Gleichzeitig ist es erwähnenswert, dass Afrika ohne die Kolonialisierung nicht mit einigen der Probleme konfrontiert worden wäre, die seitdem mit uns verbunden sind. Eine kollektive Übereinkunft, um das Problem der Uneinigkeit unter den Afrikanern zu lösen, war die Notwendigkeit einer gründlichen Dekolonisierung, die in der Tat viel schwieriger ist als oft angenommen.
Im weiteren Verlauf des Diskurses auf IG Live wurde angemerkt, wie einfach es für weiße Reisende ist, ein Visum zu bekommen, um Afrika zu besuchen, während es für einen Afrikaner typischerweise eine mühsame Aufgabe ist, eines zu bekommen, um viele Orte in Übersee zu besuchen. Dies führte schließlich dazu, dass Arunga ein weiteres Kapitel in Nyabolas Buch erwähnte, das ihr besonders gut gefallen hatte: Periodic Offerings To The Visa gods.
Es war aufbauend für mich zu erfahren, dass bis 1997 ein Kenianer, der nach Großbritannien reiste, kein Visum brauchte, weil er aus einem Commonwealth-Land kam. Das änderte sich jedoch, und es kam, was von denjenigen, die es leider durchmachen mussten, oft als unmenschlicher Prozess beschrieben wird: die Beantragung eines Visums für einen Besuch in Großbritannien.
In seiner Frustration darüber, dass ihm ein Visum für das besagte Land verweigert wurde, verfasste der bekannte kenianische Blogger und Schriftsteller Jackson Biko, liebevoll und weithin bekannt als Bikozulu, einmal einen ganzen Blogbeitrag über seine Erfahrungen. Sein Essay erhielt so viel Aufmerksamkeit von Kenianern und Menschen, die sich damit identifizieren konnten, dass der britische Botschafter in Kenia persönlich auf Biko reagieren musste. Am Ende ist es für ihn positiv ausgegangen.
Aber muss man sich als Afrikaner oder Schwarzer wirklich ständig dieser Art von Behandlung aussetzen, nur um ins Ausland zu reisen? Die Tatsache, dass es so viele Visabeschränkungen für schwarze und PoC gibt, ist verdächtig. Dass man als Kenianer 16.000 KES (ca. 148 $) für die Beantragung eines Visums zahlen muss, um die USA zu besuchen, und dass einem das Visum schließlich verweigert wird, war ein weiteres Thema, das angesprochen wurde. Vielen Kenianern wurde das US-Visum so oft verweigert, dass viele Leute eine Geschichte von jemandem haben, den sie persönlich kennen, der einmal, zweimal, dreimal abgelehnt wurde, bis er aufgegeben hat.
Deutschland, so wurde vorgeschlagen, ist im Vergleich zu einem Land wie Griechenland großzügiger bei der Beantragung von Visa für Afrikaner. Griechenland, das als wahrscheinlicher Einreisepunkt für illegale Einwanderer in den Rest Europas gilt, hat viel strengere Restriktionen, wurde angemerkt. Ob dies tatsächlich gerechtfertigt ist oder nicht, bleibt ein Thema für Diskussionen.
Und Nanjala beschäftigt sich in ihrem Buch nicht nur mit Reiseproblemen, die Schwarze Menschen betreffen. Sie spricht auch über die Segregation in Kenia und darüber, wie schwer es für sie einmal war, in Parklands zu mieten, einem Wohngebiet in Nairobi, das von der indisch-kenianischen Gemeinschaft bevorzugt wird. Dies deckt sich vor allem mit meinen persönlichen Erfahrungen, als ich in einer Wohngegend aufwuchs, die überwiegend asiatisch geprägt war.
Um Salz in die Wunde zu streuen, wurde in dieser IG Live auch die Diskussion darüber geführt, dass die Endstationen für afrikanische Reisende auf den Flughäfen am weitesten entfernt sind und dass es in Flugzeugen, die nach Afrika fliegen, einen krassen Unterschied in den Business-Klassen gibt, verglichen mit denen, deren Ziel in Übersee liegt. Das letzte Kapitel in Nyabolas Buch, auf das Arunga hinwies, trägt den Titel Small Acts Of Resistance. Das Kapitel fordert den Leser auf, darüber nachzudenken, was er im Kleinen tun kann, um Probleme wie Umweltverschmutzung, Ausbeutung und andere zu lösen.
Als Betrachter, der Travelling While Black noch nicht gelesen hat, verließ ich die IG Live in gewissem Maße aufgeklärt und auch anerkennend, dass diese Art von Problemen, die Rassen betreffen, die hartnäckig als minderwertig angesehen werden, zunehmend mutig angegangen werden. Ich plane, mir bald mein eigenes Exemplar zu besorgen. Sie können Ihr Exemplar auch im Rugano Bookstore zum Preis von 2.500 KES erhalten. Sie versenden nicht außerhalb Ostafrikas, aber Sie können ein guter Freund sein und ein weiteres Exemplar als Geschenk für jemanden besorgen, der nicht in dieser Region lebt.
Sehen Sie das Ganze auf Insta Live hier:
https://www.instagram.com/tv/CN7-xgMj_Ee/